'The Discovery' Trailer: Robert Redford Has Gone And Discovered The Afterlife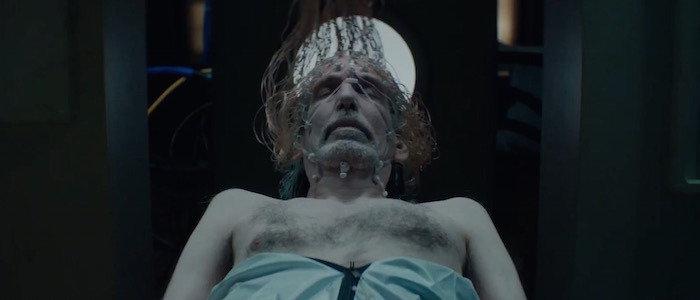 The first trailer for The Discovery, which arrived shortly before the film's world premiere at the Sundance Film Festival last month, was all about unnerving imagery and unsettling questions without answers. The new trailer slows down just enough to explain what the movie is actually about...which only means more unnerving imagery and even more unsettling questions. The film has a great hook: what if scientists discovered that the afterlife is real, leading millions of people to commit suicide to get there faster? What would the world look like? This new preview offers a few hints.
The Discovery is the latest film from director Charlie McDowell, who scored big with another small scale, high concept science fiction film, The One I Love, back in 2014. This one stars the great Robert Redford as the scientist who discovers a "new plane of existence" beyond our world, essentially throwing the entire population of Earth into an existential crisis. Jason Segel plays Redford's son and Rooney Mara plays the woman he meets after returning to his hometown for some serious self-reflection.
And it sounds like the film itself lives up to this compelling trailer, because it made our team's list of the best films they saw at Sundance this year.
Our own Ethan Anderton was a big fan of The Discovery, comparing it to Eternal Sunshine of the Spotless Mind and Flatliners:
The Discovery has shades of Eternal Sunshine of the Spotless Mind, both in its economical, practical production design, but also in its surprisingly simplistic approach to a high concept that is driven by carefully crafted characters. In addition, the path to the shocking, moving climax has plenty of influence from Flatliners, and a bit from the indie favorite Primer. Despite all these influences, the movie never feels like it's overtly borrowing from them, but merely emulating certain thematic elements.
The Discovery arrives on Netflix on March 31, 2017.
What would you do if there was proof of an afterlife? The answer to this question is rivetingly explored in The Discovery, where world-renowned physicist Doctor Thomas Harber (Robert Redford) is able to scientifically prove the existence of an afterlife—but with dire consequences. His estranged son, Will (Jason Segel), tries to confront the situation by returning to the New England–esque island where he grew up. He crosses paths with Isla (Rooney Mara), who's returning to the island for mysterious reasons of her own. The tale unfolds over the ensuing days as the regret of past choices forces these lost characters to reflect on how they've gotten to where they are.