'Hellboy 3' Is Officially, Totally, Completely Dead [Updated]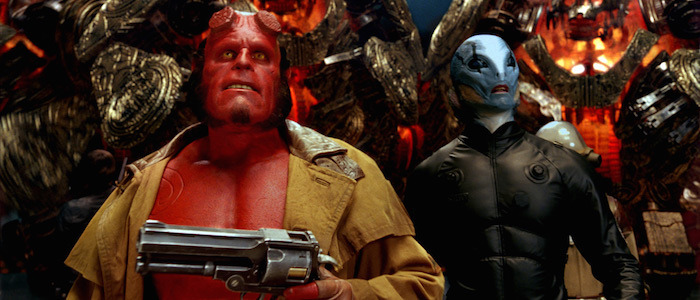 UPDATE: Hellboy creator Mike Mignola has spoken about what went down and why there won't be a third Hellboy movie. We have added his statement to the article below.
Everyone fought the good fight, but the war is over: according to director Guillermo del Toro, Hellboy 3 is officially dead and not going to happen. And that's that.
The Oscar-nominated filmmaker, whose colorful and frequently brilliant filmography includes everything from Pan's Labyrinth to Crimson Peak, revealed the sad news on Twitter. Those who follow del Toro on social media know that he's generally gregarious and jolly, rotating between thoughtful insights and crude jokes at a moment's notice. But you can cut the air of melancholy around this tweet with a blade:
Hellboy 3 Sorry to report: Spoke w all parties. Must report that 100% the sequel will not happen. And that is to be the final thing about it

— Guillermo del Toro (@RealGDT) February 21, 2017
Del Toro is referring to
a promise he made a few weeks ago
, when he said he'd sit down with Hellboy creator Mike Mignola and series star Ron Perlman to talk about a third movie if fans showcased enough interest on Twitter. When the dust cleared, 132,938 fans made it clear that this meeting needed to happen and that Hellboy 3 needed to exist. Although we don't know exactly what went down, it seems that the meeting was not fruitful.
This is a bitter conclusion for Hellboy fans, who have watched the series struggle on the big screen despite being more imaginative and fun than most Hollywood blockbusters. The first film only did modest business at the box office, but it did killer business on home video, helping a sequel get greenlit at a different studio. Unfortunately, the even better Hellboy II: The Golden Army arrived the same summer as The Dark Knight and was immediately swept under the rug. And then fans spent the better part of a decade crossing their fingers, especially since Perlman
has continuously talked about would go down in a third movie and how it had to get made
.
So now, Hellboy II is a conclusion rather than a middle chapter and it's all very bittersweet. Sure, Hellboy is free of the job that forced him to live in the shadows and he's about to become a father, but this happy ending is tinged by the forever-unresolved detail that he's still destined to be a vital cog in the engine that kickstarts the apocalypse.
The only silver lining here is that movie fans can still check out Mignola's Hellboy comics, which are beautiful and creepy and funny. They're a different flavor than the movies (comic book Hellboy is more of a working class sad sack than his film counterpart), but they offer something the movies cannot: an ending. The Hellboy comic series ended last year and it ended brilliantly. For some of us, we can hang on to that sense of closure.
In the meantime, del Toro is working on his Cold War creature feature The Shape of Water, which is expected to arrive at some point this year.
UPDATE: In an interview with the French publication 
, Hellboy creator Mike Mignola shed more light on what went down behind-the-scenes with Hellboy 3. Here's a rough translation:
I was not very happy with the way he did that, just publishing a Tweet. I would have been very pleased to see Guillermo with Ron Perlman, who has played Hellboy on the screen since 2004, and discussing this sequel. Ron and I had seen each other. Then, Guillermo made this [show] on the Internet. I said to myself: "Call me if you want to talk to me, do not go through the Internet, you have my number." I think we've both evolved in separate directions since the second Hellboy. I look forward to seeing what he will do next, but I do not see us working together again. He has his idea for the next Hellboy but, in all sincerity, I do not see him [realizing] the film. Too much water has flowed under the bridges from Hellboy 2.
In a Facebook comment, Mignola clarified his statement:
While Mignola leaves the door open for future Hellboy projects, it looks like his time collaborating with del Toro has come to an end.