'Doctor Strange' Visual Effects Reel Shows Off How ILM Made That Crazy Climax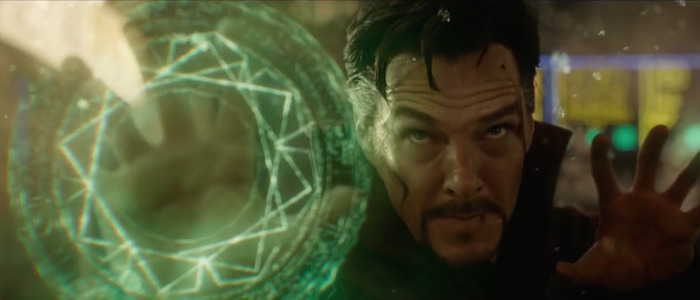 In an age where most superhero movies are guilty of ending with giant portals opening in the sky and cities being completely obliterated, you've got to hand it to Doctor Strange: its climactic action scene puts a fine and clever twist on the "giant sky portal, city completely obliterated" formula. A new reel showing off how Industrial Light and Magic brought this sequence to life has arrived online and it's very cool...and loaded with shots from the film's final 20 minutes. So if you missed Doctor Strange in theaters, be wary of spoilers.
As you probably remember, Doctor Strange concluded with Benedict Cumberbatch's wet-behind-the-ears sorcerer arriving a few minutes too late to stop Kaecilius and his forces from opening a portal to the Dark Dimension, giving the demon Dormammu access to earth. But since reality is mere putty in the hands of those who know the mystic arts, Stephen Strange uses the Eye of Agamotto to reverse time and give the good guys a fighting chance. Yes, there's a sky portal and tons of destruction, but there's something to be said for a comic book movie where the day is saved by turning back time and preventing that destruction from happening in the first place.
It's surely no coincidence that this video has arrived in the final days of this year's Oscar season, especially since Doctor Strange is up for the Best Visual Effects honor at the most prestigious of all film awards. Interestingly, ILM is up against itself in the category, with Rogue One: A Star Wars Story and Deepwater Horizon also nominated (the category is rounded out with The Jungle Book and Kubo and the Two Strings). This video is the kind of thing that's catnip for movie fans who want to know how everything got made, but it's also a brisk reminder for Oscar voters that Doctor Strange is full of all kinds of rad imagery that is only possible because a large team of talented folks worked for a long time and watched things render for hours on end.
As is often the case with videos like these, my favorite aspect is seeing how the digital blends with the practical. While ILM has created a number of impressive effects, they allow them to blend in perfectly with actual sets and practical effects that actually exist in-camera. This blend helps the digital sell the practical and vice versa.
Doctor Strange hits Blu-ray and DVD on February 28, 2017.