Star Wars Bits: 'Rogue One' VFX, 'Last Jedi' Rumors, And A Certain Blu-Ray Release Date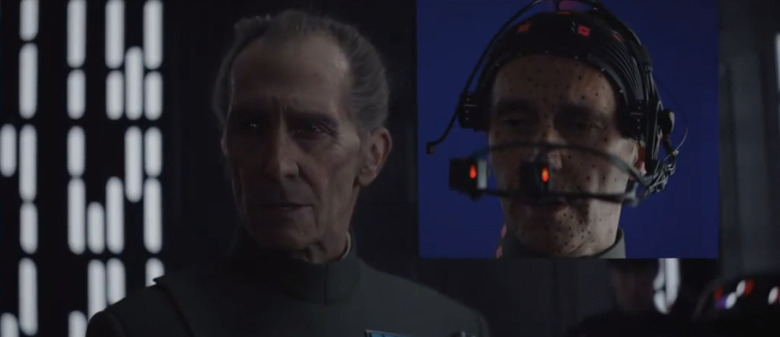 In this edition of Star Wars Bits:
It looks like we now know when Rogue One: A Star Wars Story will hit Blu-ray and DVD.
Cinefex dedicates their next cover story of Rogue One's digitally recreated Tarkin...
...as ILM releases a video showing off their process in creating him.
A new rumor claims to know who Benicio del Toro is playing in Star Wars: The Last Jedi.
Lupita Nyong'o talks about Star Wars secrecy.
The cover of the next issue of the Poe Dameron comic teases new (but familiar) Star Wars ships.
In a now-deleted listing, Best Buy revealed a release date for the Rogue One Blu-ray and DVD: April 4, 2017. This aligns with other rumors, which suggested that the disc would arrive in late March or early April. Nothing official has been announced yet, but this sounds increasingly on point.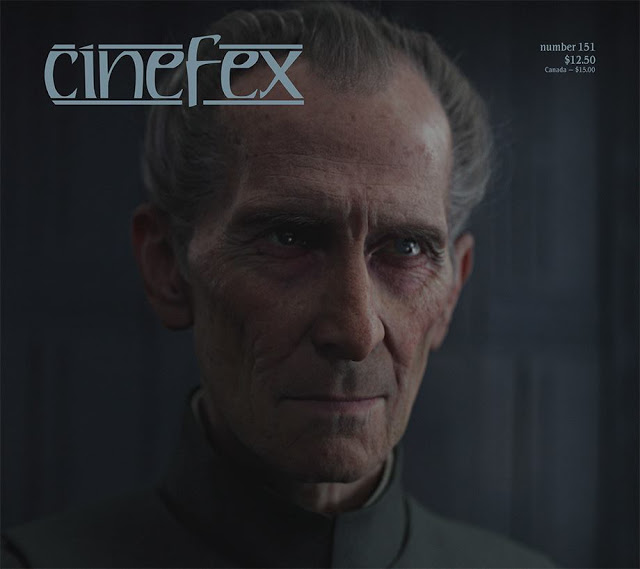 The next issue of Cinefex has dedicated its cover story to Rogue One, with ILM's digitally recreated (and controversial) Peter Cushing giving readers an icy stare on the cover. While I remain mixed on CGI Grand Moff Tarkin, the process that resurrected this character is undeniably fascinating. If you want to know more, the issue is available for order right now.
For a faster look at how ILM transformed actor Guy Henry into Grand Moff Tarkin, there's always this video. We can talk all day and night about the ethics of brining an actor back from the dead, but this is so interesting that I can't but be impressed while I mutter my misgivings.
Look, I know we're all very tired of taking a grain of salt with our Star Wars movie news. It's coarse and rough and irritating and it gets everywhere. But you're going to need a lot of salt to ingest the latest Star Wars: The Last Jedi rumor, which suggests that Benicio del Toro is playing someone named Vicrum Fett in the film. The rumor originated on WikiWand.com and has since blown up thanks to the video above. Naturally, a now-deleted name on a wiki site is not something we should take too seriously, especially since the last thing these movies need is another Fett character. Yes, Boba Fett did look pretty cool. Let's leave it there. Right now, all we know for sure is that del Toro is playing a villain. Everything else is pure speculation.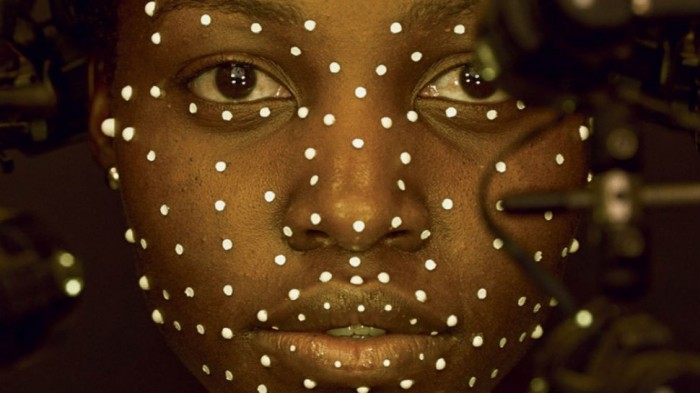 Speaking of Star Wars secrets, CinemaBlend spoke with Lupita Nyong'o, who said that she loves knowing things about the movies and keeping everything hush-hush:
I love shutting up. I love it. I love the fact that I don't have to talk about Star Wars. It's so, you know, I feel, I feel like I have a secret that everybody else wants to know about. That's powerful. I love it. I feel a little sad every time more information is revealed.
Right now, it's not even known if Nyong'o will have a sizable role in The Last Jedi – did anyone leave The Force Awakens demanding to see more Maz Kanata? Then again, someone has to explained how Luke Skywalker's lost lightsaber resurfaced...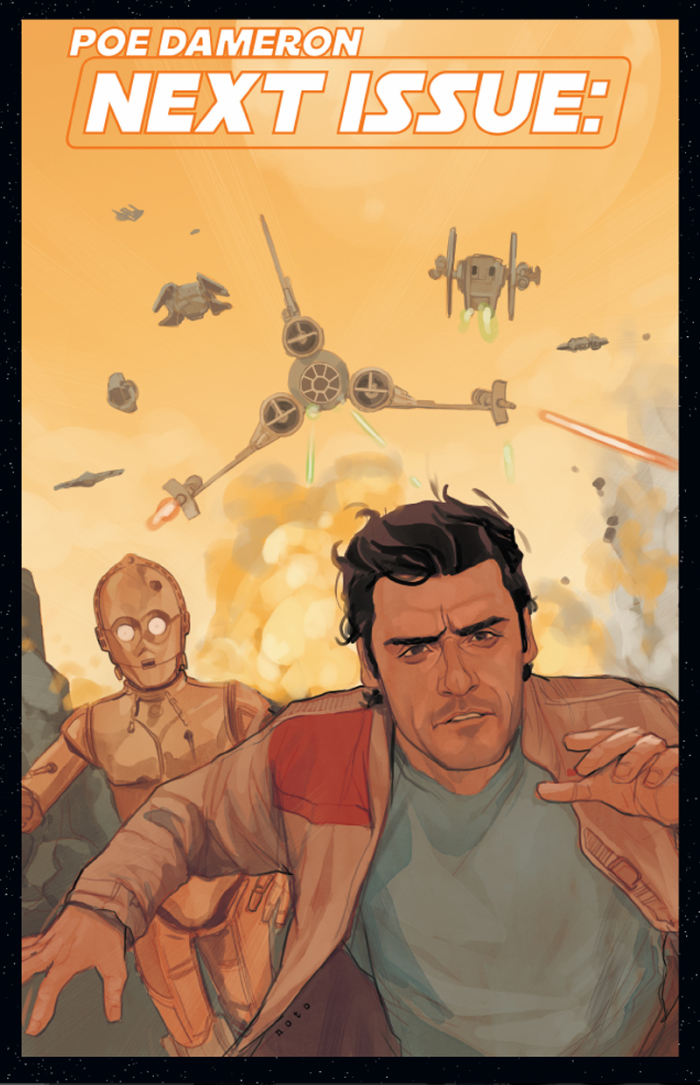 The cover of the next issue of Marvel's Poe Dameron comic features an odd sight: the charming Resistance pilot of the title fleeing alongside C-3PO while ships that look like they were assembled from familiar spare parts give chase. The Star Wars expanded universe featured ships that were cobbled together from both Imperial and Rebel parts, so it looks like this concept has been resurrected and made canon once more.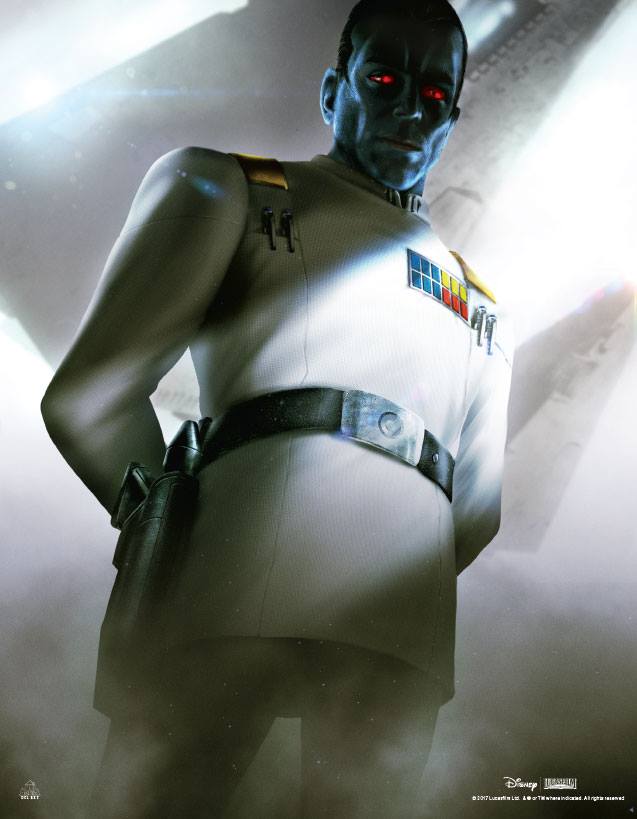 If you were planning to buy Timothy Zahn's upcoming Thrawn novel at Barnes & Noble, you'll be getting a fun bonus alongside the book itself. Behold: the exclusive poster that will be packaged with copies bought from this particular bookseller. The reverse side of the poster will feature "an updated version of the new continuity Star Wars timeline."
As we saw in the mid-season trailer, this season of Star Wars Rebels will feature Darth Maul coming face-to-face once more with the man who, uh, mauled him so many years ago: Obi-Wan Kenobi. ComicBook.com spoke with showrunner Dave Filoni, who talked about trying to balance fan service with storytelling and how every big decision ultimately has to serve the show's main characters, not the guest stars:
Certainly these characters aren't foreign to me having worked here so long. So, I'm pretty confident when going into them what they're about, but you do tread carefully because you can't do it just because you're trying to add something [to the guest star's past]. I've always said, it's the same thing with Ahsoka. It has to be valuable to Ezra. This experience, whatever it is, whatever form it takes, has to be valuable to the characters that are the center of Star Wars Rebels.
Let's wrap up this edition of Star Wars Bits with the latest episode of The Star Wars Show, which takes a look at what The Last Jedi will bring to this year's Star Wars Celebration.