'Brain On Fire' Trailer: Chloë Grace Moretz Needs A Miracle In The True Life Story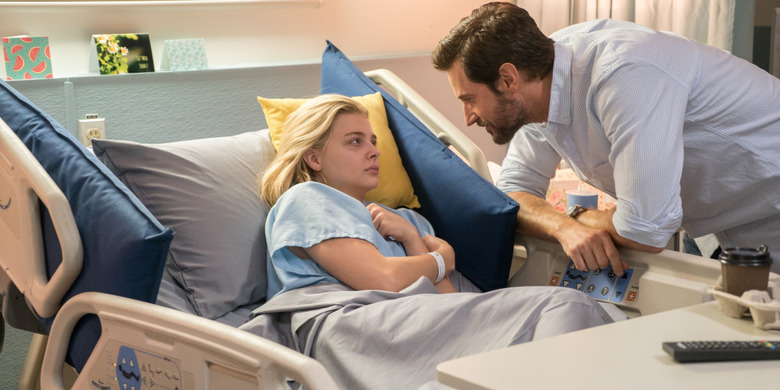 After making November Criminals and an adaptation of Susannah Cahalan's memoir, Brain on Fire, back-to-back, actress Chloë Grace Moretz dropped out of all future projects. The actor wanted to slow down and reassess her choices. We've seen her in quite a few roles over the last few years, but right now she only has a handful of movies coming up, such as the Suspiria remake and writer-director Gerard Barrett's Brain on Fire, which co-stars Tyler Perry, Jenny Slate, Richard Armitage, and Carrie-Anne Moss.
Below, watch the Brain on Fire trailer.
Moretz stars in the film as 24-year-old journalist Susannah Cahalan, who needed a medical miracle after struggling through hallucinations, memory loss, violent episodes, and seizures. Doctors didn't know what was wrong, chalking up the New York Post's writer's symptoms to partying and stress. Calahan was later diagnosed with anti-NMDA receptor encephalitis. Cahalan wrote about her experience, recovery, and life with the acclaimed 2012 memoir, "Brain on Fire: My Month of Madness." Charlize Theron (Young Adult) produced Barret's adaptation.
Brain On Fire Trailer
Brain on Fire doesn't look like it lacks sincerity. It's an inspiring story worth telling, but unfortunately, the reviews of Barrett's adaptation of the memoir out of the Toronto International Film Festival weren't encouraging. Some critics described it as emotionally distancing and uninvolving. Audiences will get a chance to see the film when it hits Netflix this year.
Here's the official synopsis:
One morning, 24-year-old Susannah Cahalan woke up in a hospital bed. She couldn't speak. She couldn't move. And she had no idea how she got there. Based on Cahalan's bestselling memoir Brain on Fire: My Month of Madness, director Gerard Barrett's adaptation captures the horrifying experience of one woman's unexplained descent into madness and the medical miracle it took to pull her back from the brink. Fresh out of journalism school and ready to embark on adult life, Susannah (Chloë Grace Moretz) already seemed to have it all: her dream job at the New York Post, supportive co-workers (Tyler Perry and Jenny Slate), a devoted boyfriend (Thomas Mann), and a loving family (Richard Armitage and Carrie-Anne Moss). Then, almost overnight, this ingénue went from one of the Post's most reliable reporters to an unstable, paranoid shell of her former self. Plagued by auditory hallucinations and memory loss, doctors dismissed her condition with a diagnosis of partying too hard and stress. But as her condition worsened, the stakes grew higher, and the race to find an answer became a matter of life and death.