Kevin Smith Will Still Release 'Clerks 3' And 'Mallrats 2' In Some Form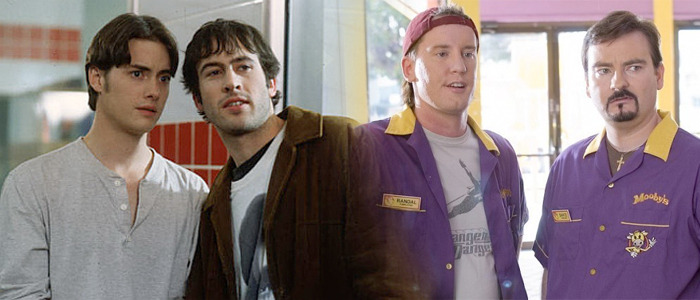 Just over a week ago, we learned from Kevin Smith that he was working on a sequel to Jay and Silent Bob Strike Back that would take aim at Hollywood's nostalgia obsession by getting nostalgic himself with Jay and Silent Bob Reboot. While that was good news for his most loyal fans, it also came with some bad news about two other projects that took the director back into his own View Askewniverse.
Clerks 3 and Mallrats 2 have been in the works for awhile now, but a couple problems have held them back from being made as feature film. But since Kevin Smith loves his fans, he's going to make sure that he gets them out to the public in some form. Find out more below.ComicBook.com listened to the most recent episode of Kevin's Smith's Smodcast podcast, and there he offered this promise to his fans who want to know what Mallrats 2 and Clerks 3would have offered up:
"Sooner or later, I will put the scripts out there for Clerks 3. A comic book or something like that, so people can see it. And the same thing for 

Mallrats

. Probably 

Mallrats

 2, the movie script, we'll do as a comic book or something like that."
Smith seems more sure about the Mallrats comic than the Clerks one, and that's likely because he has much more material for the Mallrats sequel since it started as a movie but turned into a TV series called Mallbrats instead. The episodes he wrote for that show would likely make for a good limited comic book run.
As someone who spent their teenage years enjoying Kevin Smith's older movies, I wouldn't mind reading the Clerks 3 script, but I probably wouldn't be quite as interested in a Mallrats 2 comic book, but Smith has plenty of fans who would flip through those pages to find out what happened to Randall & Dante and Brodie & T.S., not to mention the supporting characters from those movies.
There is a downside to this though, and that's Kevin Smith's predilection towards not following through completely on comic book projects. Bleeding Cool notes:
"Smith hasn't exactly had the best track record of follow-through with his comic books. In 2002, he launched two six issue minis at Marvel, Spider-Man/Black Cat: The Evil That Men Do and Daredevil/Bullseye: Target. The former was delayed by three years before being completed, and the latter only ever managed to see one issue published. Smith's 2010 Batman mini-series, The Widening Gyre, was meant to be 12 issues, but ended at six when it became clear Smith wouldn't be able to complete it. The remaining issues were supposed to be published in 2014 as a new mini, Batman: Bellicosity, but that never happened either."
That doesn't inspired much confidence, and those were comic books where Kevin Smith was just as passionate about the characters as he probably is about his own material. But maybe Smith has a creative fire lit under his ass, and he'll make it happen. If the comic books take too long to come to fruition, well, it just takes a few clicks to toss those Clerks 3 and Mallrats 2 scripts on the web.