'The Purge 4' Gets A Summer 2018 Release Date, But Needs A New Director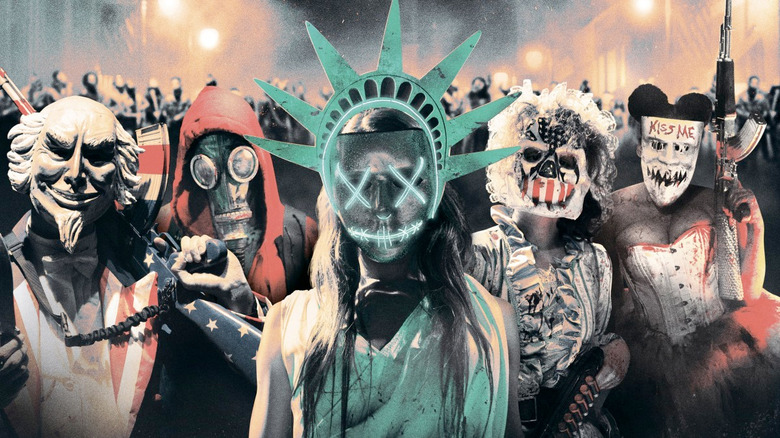 Even though last year's The Purge: Election Year wrapped up the series pretty nicely withe a political victory being the first step into having The Purge abolished and the New Founding Fathers of America put in their place, it still left the window open for chaos to return to the streets when those in support of The Purge were said to be taking to the streets with violent protest. Now we'll get to see what happens next.
The Purge 4 has been confirmed to be in development at Universal Pictures, Blumhouse Productions and Platinum Dunes, and it'll get another prime summer release date in 2018. However, the franchise will need a new director, because James DeMonaco won't be getting back behind the camera this time. Find out more below.The Hollywood Reporter announced The Purge 4 has been set for July 4, 2018 release, giving it another prime weekend to make some box office bank. The Purge has only grown in popularity as the series has gone on. The first film in the series grossed just over $89 million worldwide, while The Purge: Anarchy followed it up with almost $112 million. Then The Purge: Election Year became the most successful with over $118 million worldwide. Can The Purge 4 keep up the trend, especially up against Ant-Man and the Wasp, slated to arrive July 6?
The interest in the next installment of the series will likely be determined by where the story goes from here. Now that the people have won their victory in politics in an attempt to get The Purge outlawed, those in support of the New Founding Fathers of America are only going to get more desperate in their attempts to keep control over the lower classes. Considering Election Year took cues from our then-current political climate for inspiration, it'll be interesting to see how they take recent events into consideration for the development of the fictional universe.
The script for The Purge 4 will still be written by James DeMonaco, and even though he's not directing, he'll help producers Jason Blum, Michael Bay, Brad Fuller, Andrew Form and Sébastien K. Lemercier find a director to take over the reins. Frankly, my potential interest lies almost entirely in what the story will be, but the right director could help get me on board too. For some reason, the first name I thought of to replace DeMonaco was Predators helmer Nimrod Antal, but if you have any other suggestions, sound off in the comments.
We're not sure if this sequel could offset the timeline for a potential TV series adaptation of The Purge to still happen, but time will tell.