New 'Spider-Man: Homecoming' Promo Art Gives A Better Look At Shocker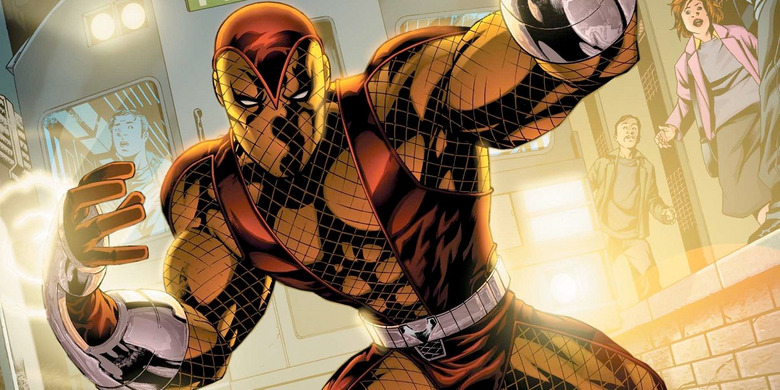 The first trailer for Spider-Man: Homecoming showed us quite a bit from the upcoming franchise reboot of Marvel's webslinger that's being done in collaboration with Sony Pictures this time. We know Robert Downey Jr. will be helping out a bit, even though he's ultimately trying to deter young Peter Parker (Tom Holland) as he is anxious to get involved in helping to keep the world safe all while living the life of a teenager who is still in high school.
Even though Peter Parker is keen to prove himself as an Avenger, the bad guys in New York City might prove to be too much to handle for the wallcrawler. Michael Keaton will certainly be a formidable threat as the villain Vulture, but there's another antagonist in town who will create trouble too. The villain Shocker will appear, and he's being played by Bokeem Woodbine. There's a quick shot of him in the Spider-Man: Homecoming international trailer, but some new promo art gives us a much better glimpse at a different look he'll wear in the movie.
Here's the new Spider-Man Homecoming Shocker costume from Eric Cameron on Instagram: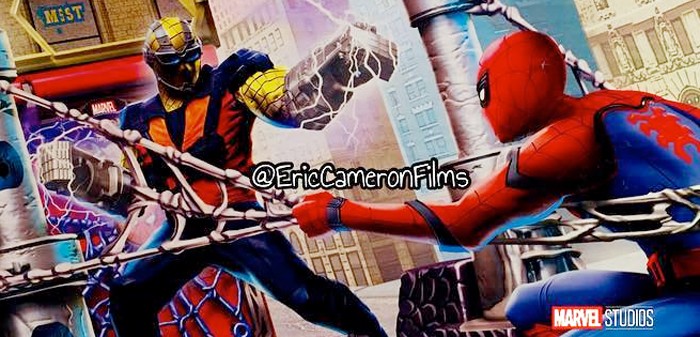 Keep in mind that this is promotional art that comes from Toy Fair 2017, which happened in New York this past weekend. The image is part of Spider-Man: Homecoming merchandise display, but that doesn't mean that this version of Shocker will actually appear in the movie. Action figure lines for superhero movies consistently have discrepancies between the toys on shelves and the characters we see on screen. Furthermore, there are plenty of toys released for superhero movies featuring elements that don't appear in the movie at all.
Having said that, there's a chance we still might see that Shocker suit in Spider-Man: Homecoming. In case you didn't know, we've already seen one official shot of Shocker thanks to the Spider-Man: Homecoming international trailer, and here it is: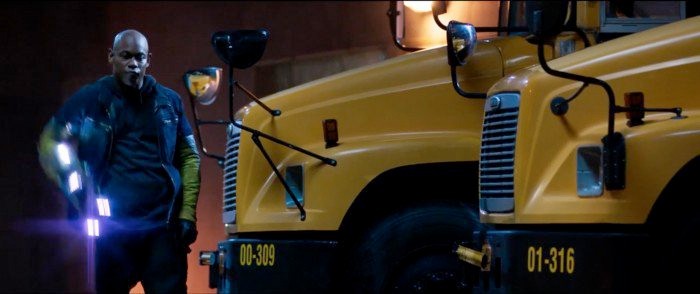 As you can see, Bokeem Woodbine isn't wearing that suit depicted in the promotional art, but the jacket he's wearing does have yellow coloring, meant to mimic the look of Shocker's design in the comics. However, we know that's not the only time we see Shocker in the movie, because these set photos surfaced when Spider-Man: Homecoming was in production last fall:
New Spider-Man Homecoming set photos show Bokeem Woodbine's Shocker!!!! pic.twitter.com/6RQmAV98Ow

— Marvel__News (@Marvel__News) September 5, 2016
Those images give us a look for Shocker that is much closer to what we see in the promotional art, albeit somewhat less tactical. It would be interesting to see Shocker evolve as the story of Spider-Man: Homecoming unfolds. Maybe he's a villain who starts out small time as a thief with some special tech, but he becomes more of a dangerous nuisance as time goes on, improving upon his weaponry.
Then again, as we noted, the design we see for Shocker in the promotional art could just be for an action figure line that isn't mean to directly mimic what we see in the movie. More than likely, we won't know for sure until we see the movie this summer.
Spider-Man: Homecoming hits theaters on July 7.