Read The Rumored Description Of The First 'Star Wars: The Last Jedi' Trailer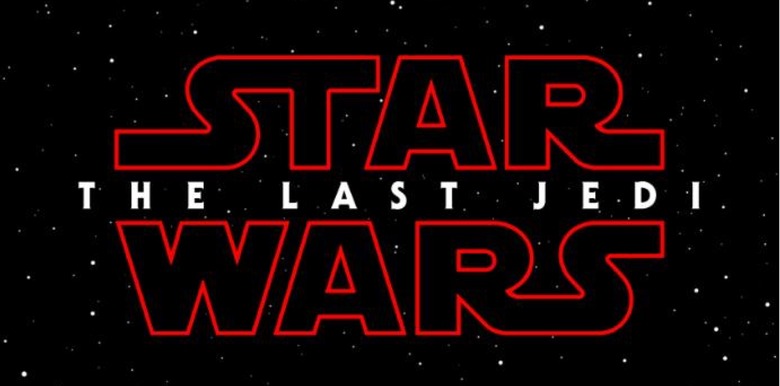 Here at /Film, we're very well aware of just how much coverage we give Star Wars. But it's one of our favorite franchises, and plenty of our readers out there can't help but read every single bit of all the Star Wars news and rumors out there. We try to be as discerning as possible when it comes to sifting through what sounds bogus, and when it comes to this next bit of news, we must say that we're extremely skeptical. But considering the way previous rumors panned out, we would be remiss to not at least discuss it.
A rumored description of the first Star Wars: The Last Jedi teaser trailer has hit the web, and even though the source is questionable, one of the rumored trailer descriptions for the Star Wars: The Force Awakens teaser turned out to be true. Read about the possible Star Wars The Last Jedi trailer description after the jump, but beware of possible spoilers.
What has us most skeptical about this trailer description (via MovieWeb) is that it comes from a popular YouTuber named Mike Zeroh (citing someone from 4chan a couple weeks ago). While he's known for spoilers and speculation, he's also frequently wrong (as are rumors from 4chan). But sometimes, accurate information comes from the unlikeliest places.
The first part of this rumor claims that in addition to a sizzle reel being shown at Star Wars Celebration (which was rumored to be the first footage fans would see from the movie) there will be a teaser trailer and a sizzle reel released at Celebration. The first teaser trailer will be released online at the same time it debuts at the convention, but the teaser that plays at the convention will have a few more seconds of footage that will only be shown to fans in attendance in Orlando. So what's in these teasers? You can watch this video to hear it discussed, or read about it along with some of our own commentary below that:
The Last Jedi teaser trailer takes a cue from The Force Awakens teaser by having Finn be the first person we see. Much like the first shot in the aforementioned teaser from December of 2014, Finn appears in a stir, breathing heavily, waking up in a medical bay, which is where we left him at the end of The Force Awakens. We don't know if this is a fake description or not, but that would be a cool way to start this first teaser.
From there, we get a shot of Poe Dameron coming through a sliding door on a ship, saying something along the lines of, "They're almost here." The room supposedly shakes and the Rebel pilot looks concerned. This is followed by a completely different scene of a funeral procession walking through a huge city before a character in dark clothing draws a blaster and fires it at someone in the procession.
Then Poe is seen with Finn and the Rebel character played by Kelly Marie Tran, and they're all dressed like First Order officers. This lines up with rumors we heard previously, which could either be because the description is accurate, or because they took cues from other rumors online and used them to put together this trailer description.
Another shot features Captain Phasma leading a group of Stormtroopers, with the description adding that they look a little different, but also admitting that could be a misconception. Phasma tells the Troopers to "Find them," and it appears to take place in the same city of the funeral processions. Stormtroopers fire all over, causing commotion all over.
There's shot of General Leia who says "Their shadow is growing," followed by a shot of Supreme Leader Snoke stepping out of the darkness. This supposedly isn't a visual effect, but a practical one, with the character standing 8 feet tall, towering over General Hux who can't bring himself to make eye contact with him. Snoke asks, "Is he alive?" to which Hux answers, "Barely." Snoke responds, "Good. The time has come for a family reunion." The description says this is a paraphrase, but this is the gist of the line.
Finn barges into a meeting that Leia and her advisers are having and says, "They're back," with the General being not surprised by this revelation. Finn reacts and says, "You knew," with Leia saying, "I felt it." Then the Millennium Falcon flies out from waves into the sky, followed by TIE Fighters flying through space.
Finally, a Stormtrooper runs out of an alley in the aforementioned city, with several others following him afterwards. They meet Captain Phasma, to which one of the troopers says, "It's the Jedi." Phasma stays while the other troopers run. A lightsaber ignition is heard, a blue light reflects off of Phasma's helmet. The trailer cuts black and Luke says, "Everything will die with us."
Reportedly the teaser that will be released to the public doesn't include Luke Skywalker and has far less "money shots." But the teaser that will be shown only to Celebration attendees will have three shots of Luke Skywalker. That seems rather odd since the entire teaser description would feel incomplete without that tag at the end with Luke's dialogue, but maybe that just means we don't see Luke in the official teaser.
Honestly, I think this all sounds pretty bogus. The dialogue is cheesy, and I have a hard time believing that the first teaser trailer won't show Rey, one of the main character of the franchise, at all. The lack of Luke after The Force Awakens made us wait so long before seeing him also seems suspect, but not as suspect as how many details from rumors are used in the description of the trailer. Plus, we have our own source who says that this teaser description is completely false.
All things considered, we figured it couldn't hurt to stir the pot a bit this weekend, especially with no footage from The Last Jedi released yet. And as I said before, one of the trailer descriptions for The Force Awakens teaser turned out to be true, so you never know. Just take this all with a grain of salt for now and hope we get to see the first footage sooner than later.