DC's 'Shazam': 'Lights Out' Helmer David F. Sandberg In Talks To Direct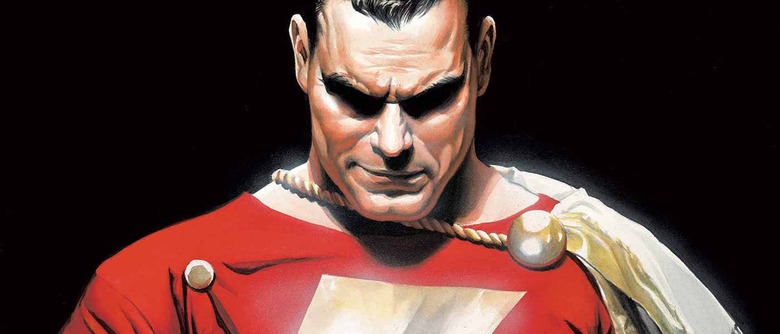 DC's Shazam has been in development for several years now, but it hasn't shown any serious forward momentum since it cast Dwayne Johnson as Black Adam back in 2014. With that 2019 release date slowly creeping up, though, Warner Bros. is finally ready to take its next big leap forward. The studio has reportedly tapped director David F. Sandberg (Lights Out) to direct.
TheWrap reports that Sandberg is currently in talks to be the new Shazam director. Sandberg is a Swedish director who made his feature directing debut last year with Lights Out, based on his own horror short. (It was a big enough hit that it's already got a sequel in the works.) Since then, he's also directed Annabelle 2, which will be out later this summer. Shazam is currently scheduled to open April 5, 2019, so Sandberg should have plenty of time to get things together — which is a relief, since some of Warner Bros.' other DC projects have suffered from a rushed production schedule.
The role of Shazam has not been cast. For that matter, none of the roles besides Black Adam have been cast. But with Sandberg on board, we can probably expect this project to start picking some serious steam in the coming months.
Formerly known as Captain Marvel (no relation to Marvel's Captain Marvel), Shazam is the superheroic alter ego of Billy Batson, a young boy who can transform himself into an adult superhero by shouting "Shazam!" His powers were gifted to him by an ancient wizard called Shazam, and include superhuman strength and speed, flight, invulnerability, and magic. Johnson's Black Adam also had those powers once, but lost them before he was corrupted. If that all seems pretty complicated even by comic book standards, it's partly because the characters started out with Fawcett Comics in the 1940s before being folded into the DC universe in the 1970s.
For its part, the studio seems really high on Shazam – or at least on Johnson's portrayal of Black Adam in Shazam. They've already gone ahead and announced a separate Black Adam standalone movie to follow Shazam. That one doesn't have a release date yet.