New 'Power Rangers' Trailer & Posters: Are They More Like Iron Man Or Spider-Man?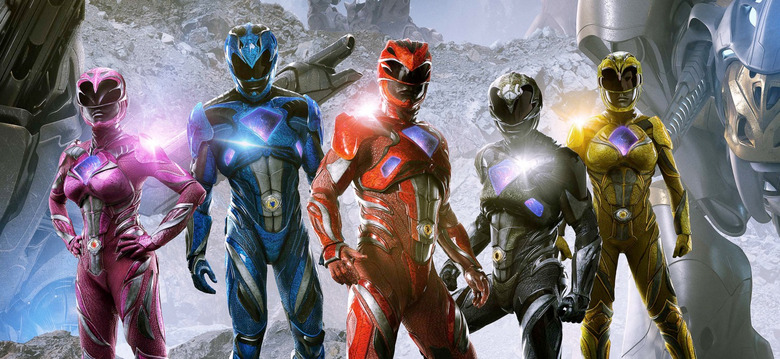 If you go to your local toy aisle, new Power Rangers merchandise is on shelves now. I'm not sure how well they're selling when kids and their nostalgic parents haven't seen the movie yet, but at least they'll be there after the movie hits theaters on March 24. The most recent trailer promises a franchise along the lines of Transformers, even if the tone outside of all the action feels like it's taking itself a little too seriously.
Anyway, the marketing is really starting to push the Power Rangers in their full power suits, not to mention their massive Zords, looking like cheap Dinobots with rainbow colors, which honestly isn't much of a change from the original series. You'll see what I mean in a new Power Rangers trailer that has emerged online, as well as a batch of new posters.
Here's the quick new Power Rangers trailer that just emerged online:
The biggest problem I have with the Power Rangers designs so far is the suits look every bit as fake as the digital suit created for Green Lantern. Set photos show us that the suits each of the Power Rangers wear aren't digital creations, but every shot and photo of them is made to look extremely Photoshopped. Especially when you look at new character posters like this:
Then there are these two posters featuring the whole team, their Zords and Elizabeth Banks as Rita Repulsa (via IMP Awards):
We'll see if the action and nostalgia factor is enough to overlook the designs that just aren't doing anything for me aesthetically. After all, it's not like any of the other Power Rangers has suits that looked all that impressive. The only cool thing about the original Mighty Morphin Power Rangers were the helmets, and they only got worse after that first iteration.
Power Rangers arrives on March 24, and after that we'll be able to decide whether it might have been better to see Max Landis' version of the heroes instead of what John Gatins wrote for director Dean Israelite.
Saban's Power Rangers follows five ordinary high school kids who must become something extraordinary when they learn that their small town of Angel Grove – and the world – is on the verge of being obliterated by an alien threat. Chosen by destiny, our heroes quickly discover that they are the only ones who can save the planet. But to do so they will have to overcome their real-life issues and

band

together as the Power Rangers before it is too late.