'Mission: Impossible 6' Will Explore Ethan Hunt's Identity, Throw Tom Cruise Off Something Tall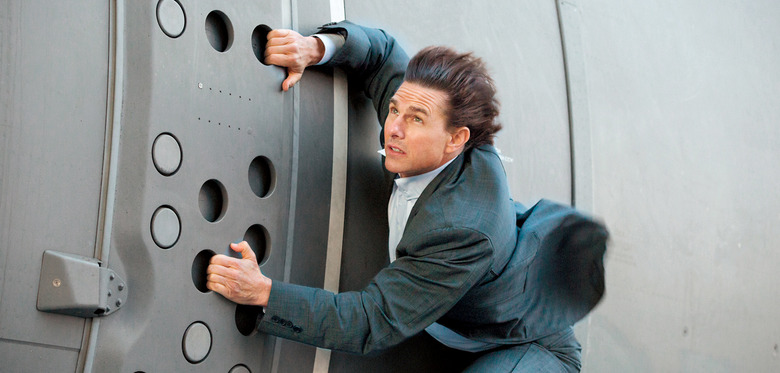 Last year marked the 20th anniversary of the Mission: Impossible film franchise, and while there wasn't much celebration surrounding the big screen adaptation of the classic film series, soon fans will have something to be excited about with a new movie starting production later this year.
Mission: Impossible 6 is already slated for a release in the summer of 2018, and director Christopher McQuarrie recently appeared on the Empire magazine podcast to discuss what he and franchise star and producer Tom Cruise have in store this time. While there will be plenty of action again, this time McQuarrie wanted to dive deeper into the character of Ethan Hunt. Oh, and they're going to throw Tom Cruise off something tall.
Find out more about Mission Impossible 6 details after the jump.
Since fans have come to expect action to open up the Mission: Impossible movies, Christopher McQuarrie first wants to play with those expectations. McQuarrie told Empire, "It starts in a very unconventional way. It does not start with action. That was the hardest pitch of this movie." Mission: Impossible III didn't start with action either, but rather an intense interrogation between the late Philip Seymour Hoffman and Tom Cruise. That's my favorite opening scene of the franchise (and one of my favorites of all time in general), so I can't wait to see what McQuarrie has cooked up.
Along with that change of pace for the opening of the movie, McQuarrie says this installment will explore the character of Ethan Hunt. The director said:
I've seen five of these movies and I don't know who Ethan Hunt is. One movie sort of dealt with his personal life; the other movies are about people speculating what's really going on in Ethan's head. I want to know who Ethan is in this movie, I want an emotional journey for this character, and Tom really embraced it. I don't want to string together a bunch of action scenes, I want to actually deal with character. So I put Ethan in a bunch of complicated moral quandaries, and I'm trying to find ways to connect them – and then, ironically, the way to connect them was through giant action scenes.
So just because we're going to explore the character of Ethan Hunt more doesn't mean there will be a lack of blockbuster action. This is a Tom Cruise movie after all, and it wouldn't be a Mission: Impossible movie without the 54-year-old actor pulling off an insane stunt. McQuarrie even teased what they have cooked up this time that will top the plane stunt from Mission: Impossible – Rogue Nation:
I came to Tom with a picture of something and Tom looked at it and said, 'That's awesome! I want to fall off of that!' It's like, OK, I can see it on a poster, and I can see Tom falling off of it.
What is the mystery object that Tom Cruise wants to fall off of? Presumably it's something high, but what could possibly be more daunting than hanging off the side of the Burj Khalifa in Dubai? We'll have to wait and see.
Finally, Christopher McQuarrie also teased the return of "people you would not expect to be back." Does that mean we might see the return of a character we thought was dead? Or maybe the return of one of Ethan Hunt's female counterparts like Thandie Newton or Paula Patton? Your guess is as good as mine. Don't forget that Mission: Impossible – Ghost Protocol almost brought back the character of Max from the first Mission: Impossible, so maybe that's something that could finally come to fruition.
Mission: Impossible 6 starts production in April and arrives in theaters on July 27, 2018.