'Moana' Deleted Scene Reveals Six Brothers Who Didn't Make The Cut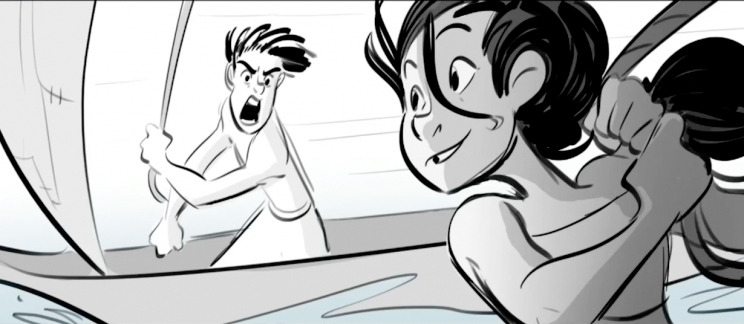 In Disney's hit animated adventure Moana, our title character sets out to sea with little to no experience sailing. Eventually, she learns some tips and tricks thanks to the help of the demigod Maui (Dwayne Johnson). But in an earlier draft of Moana, the character was actually a little more proficient at sailing, even outdoing her six brothers.
That's right, in an earlier edition of Moana, our hero actually had six older brothers. When Moana hits home video very soon, there will be a deleted scene featuring the siblings together in a little sailing race just off the coast of their island. It shows Moana (Auli'i Cravalho) had no trouble keeping up with (and even surpassing) her brothers on the sea, despite the fact that they were older. That scene has made its away online, and you can watch it after the jump.
Here's the Moana deleted scene that will be on the home video release (via Yahoo):
As directors Ron Clements and John Musker reveal in the video above, they actually decided that they didn't want Moana to be as proficient at sailing at first. They wanted to give her another challenge on the sea since their story development already had her taking up some impressive heroics without a problem. Since that scene no longer served the same purpose, the six brothers ended up getting cut from the story completely.
For those keeping track, that's two deleted scenes that we know of that will be on the home video release. The other recently revealed deleted scene featured a cut song called "Warrior Face" and you can listen to it over here. There are bound to be some more interesting revelations about what was cut from Moana once the movie hits Digital HD on February 21 and Blu-ray and DVD on March 7. If you missed it, check out my review to see what you're missing.
Three thousand years ago, the greatest sailors in the world voyaged across the vast Pacific, discovering the many islands of Oceania. But then, for a millennium, their voyages stopped – and no one knows exactly why. From Walt Disney Animation Studios comes "Moana," a sweeping, CG-animated feature film about an adventurous teenager who sails out on a daring mission to save her people. During her journey, Moana (voice of Auli'i Cravalho) meets the mighty demigod Maui (voice of Dwayne Johnson), who guides her in her quest to become a master wayfinder. Together, they sail across the open ocean on an action-packed voyage, encountering enormous monsters and impossible odds, and along the way, Moana fulfills the ancient quest of her ancestors and discovers the one thing she's always sought: her own identity.