Kevin Smith Is Bringing Todd McFarlane's 'Sam And Twitch' To BBC America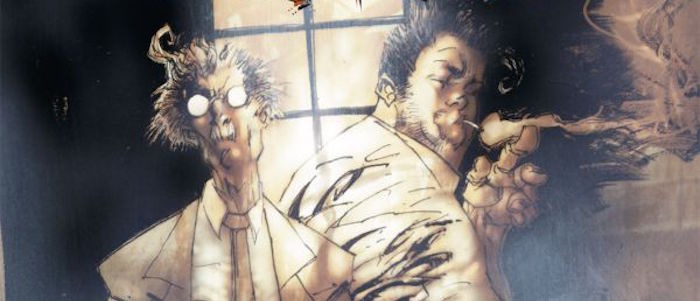 You've got to hand it to Kevin Smith – the man is certainly keeping busy. Yoga Hosers is a critical and financial bomb? No sweat, he's got episodes of The Flash and Supergirl to direct. Clerks III isn't going to happen? No big deal, he'll just write a new Jay and Silent Bob movie. He has no interest in directing a Batman movie? Of course he doesn't! But he will work on another comic book adaptation: a police procedural television series based on Sam Burke and Twitch Williams, two characters who were originally introduced in the pages of Todd McFarlane's Spawn.
Smith is developing a Sam and Twitch series for BBC America and while it's still early days yet, network president and general manager Sarah Barnett had this to say about the project (via JoBlo):
He is attached to write, direct and executive producer a series based on the Sam And Twitch comic book series for us. They were originally introduced in Spawn, and it's Todd McFarlane's comic book series about these big-city homicide detectives who face a series of super grisly crimes that are connected to the occult. Its kind of frightening and sort of gallows humor. It's, again, procedural, but in a very modern, contemporary way. So each episode is closed ended, although there are certain character-serialized aspects to the storytelling.
As Barnett says, detectives Sam Burke and Twitch Williams were initially created as supporting characters in Spawn, two New York City cops who initially clash with McFarlane's demonic antihero before forming a loose partnership. Sam and Twitch received their own spin-off series in 1999, which ran for four years and 26 issues and was written mostly by Brian Michael Bendis, one of the current masterminds of the Marvel comic book universe.
It's not clear if Smith's series will hint at its Spawn origins or if it'll be content to just be a supernatural police procedural about two oddball cops who solve the cases no one else can wrap their minds around (although I'd bet on the latter). Either way, it's a big step away from Smith's usual area of expertise. And hopefully, it'll feel more like his The CW superhero work and less like that last time he made a police movie, the truly forgettable Cop Out.
This isn't the first television project Smith has been working on in recent years. He was attached to make a television version of The Adventures of Buckaroo Banzai, which subsequently fell apart due to legal issues. And despite talking about it for years, his television sequel to Mallrats has yet to come together. Hopefully, Sam and Twitch will have a little more luck.