'Hook' Co-Star Dante Basco Is Trying To Kickstart A Rufio Prequel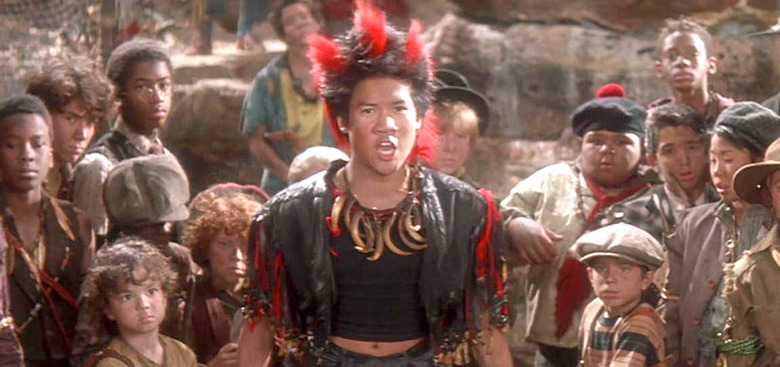 Steven Spielberg's 1991 fantasy sequel Hook is one of the filmmaker's easier targets. Spielberg himself as admitted to being disappointed in the film, but plenty who grew up with the Peter Pan follow-up still have a special place in their heart for their film. Hell, I'm one of them. I even have a ticket from one of Robin Williams' stand-up shows and I had him sign it, "Bangarang!" The question is, how many people like me are interested in seeing a Hook prequel?
Well, Hook co-star Dante Basco, who played the mohawked Lost Boy leader named Rufio, is hoping there are enough fans of the original movie to help support a Kickstarter for a short film that shows us who Rufio was before he went to Neverland. It's basically Hook Origins: Rufio, but the film is called Bangarang, and you can find out more about it below.
The Hook prequel is being executive produced by Dante Basco (though it won't star him since he's a little too old for the role now), and written and directed by Jonah Feingold, who is also working on a Peter Pan feature film project called Wendy, starring Pitch Perfect actress Brittany Snow. Here are the two introducing us to their idea for the movie:
Bangarang is described as a contemporary modern-day story about a young Filipino kid named Roofus who grows up on the wrong side of the tracks and ends up going to Neverland and becoming the leader of The Lost Boys. Here's a slightly more detailed description from the Kickstarter campaign page:
Roofus is a 13-year-old kid who is destined to be more than he is. After his mother is forced to put him into a foster home, he and his rag-tag group of best friends – a Jamaican boy named Julani and a bright-eyed latina force of nature named Ella – find a way for Roofus to escape his ill fate, find his happy thought and fulfill his destiny.
The story has been reverse engineered from what was set-up in Hook. We answer all the questions you've ever wondered — How and why is Rufio the leader of the Lost Boys? Where does "bangarang" come from? And of course, how he gets the mohawk.
The biggest question I have based on the information provided is how the story can be set in modern day, but also be a prequel to Hook. The original movie takes place in 1991, the year it was released. But how can young Roofus, who will eventually become Rufio, be younger in a modern day setting, but then suddenly older in Neverland at the time when Peter Banning arrives 26 years in the past? The easy answer is that Neverland exists outside of the normal rules of time, though the explanation may still be a little tricky to pull off. Maybe that will be addressed in the movie.
The producers need $30,o00 to make the short film that they have in mind, but they also note that if they happen to reach $200,000, they'll make a feature film version instead. I'm not sure how they'll expand an idea that they intended for a short into a feature film, but there you go.
Plus, if you happen to know or have any kids who might want to be part of this project, they're having an open casting call for the lead roles. They even have some of the audition sides for you to check out that appear to be pages from the actual script.
If you'd like to have more Hook nostalgia thrown at you, you can check out the cast reunion photos showing the Lost Boys back together for the film's 25th anniversary last year.