'Star Wars: The Last Jedi' Reveals Finn, Rey & Poe In Force Friday II Announcement

A few months before Star Wars: The Force Awakens hit theaters in 2015, fans were excited about an event called Force Friday. It was a day in September when the first wave of merchandise tied to the Star Wars sequel was released in stores. Fans were not only excited because it gave them a whole bunch of new collectibles to toss on their shelves, but because it provides a bunch of new information and sneak peeks at various characters, ships and settings from the movie. Now Force Friday II has been confirmed for later this year.
Disney and Lucasfilm have announced that Force Friday II will return on September 1st, in honor of Star Wars: The Last Jedi, and along with it they've revealed an image that gives us our first look at Rey (Daisy Ridley), Finn (John Boyega) and Poe Dameron (Oscar Isaac) from the movie.
Here's our Star Wars The Last Jedi first look at Rey, Finn and Poe Dameron: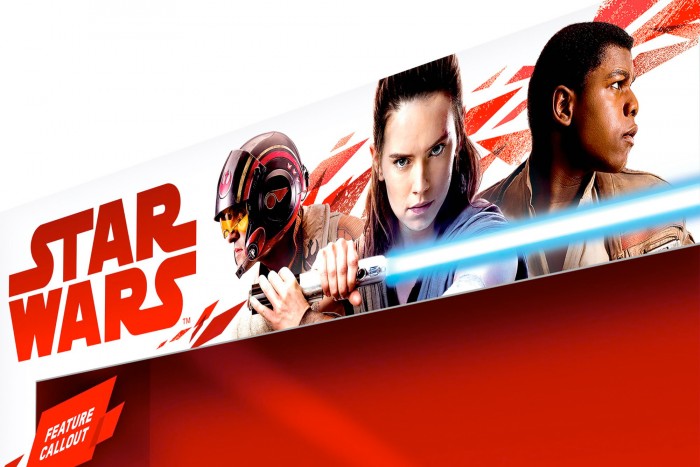 That's a close-up image of the box art for Star Wars merchandise coming on Force Friday II. Here is a version with perscpective corrected in a photo app:

For anyone who cares, here's the full merchandise box art that doesn't reveal anything else: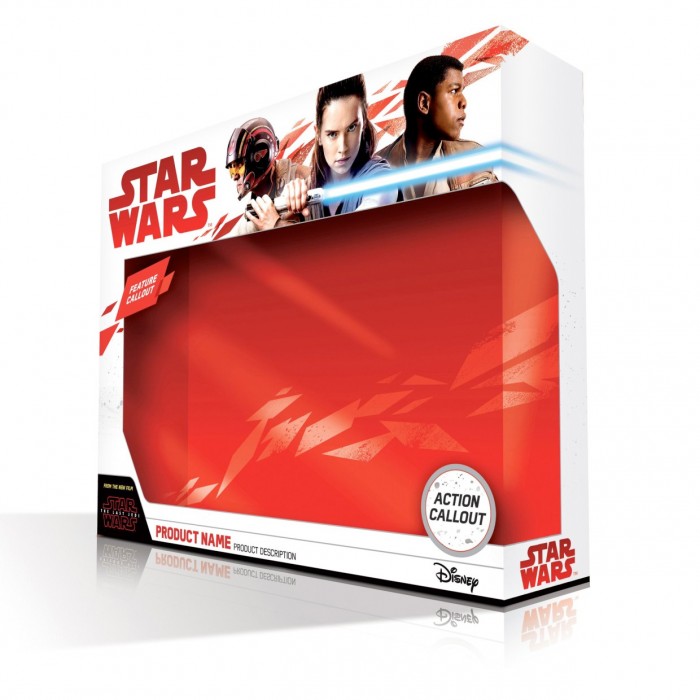 As you can see, Rey has a new hairstyle, and she's prominently wielding a lightsaber this time since that's not a secret anymore. It looks like she also has some black on under the traditional beige colors that we've seen her wear, which is also the color that Jedi usually wear. Does the black underneath hint at the potential of some Dark Side in her? We'll have to wait and see.
Meanwhile, Finn still has that jacket he inherited from Poe Dameron, but instead of wearing black underneath the jacket now, he has a lighter beige shirt. It actually resembles the shirt that Poe Dameron wore with his jacket the first time we met him, so maybe Finn just keeps stealing fashion cues from Poe.
As for Poe Dameron, he doesn't look much different from how we saw him in The Force Awakens. He still has his signature black pilot helmet and an orange flight suit. However, his suit does look like more dirty and dingy than he's used to, so maybe he's been out fighting for awhile by the time we catch up to him in The Last Jedi.
One thing that's interesting is this is the first time that merchandise tied to the release of one of the milestone chapters of Star Wars that has packaging prominently featuring the heroes instead of a villain. Here's last year's merchandising packaging that was all over various products: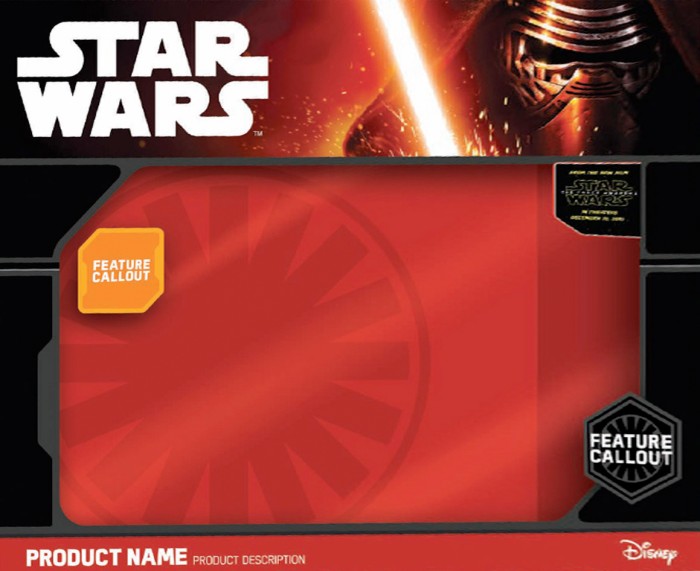 Before that, Darth Vader and Darth Maul were prominently used for other Star Wars merchandise releases (Attack of the Clones didn't use any characters prominently for their packaging art). Perhaps they went with the heroes rather than villains since a design using Kylo Ren again wouldn't have offered much variance in packaging. Either way, we're glad to get a glimpse of how our heroes have changed a bit. But surely these won't be the only looks they have in the movie. We're bound to see more soon.

For those interested, here's the full press release for Force Friday II from Disney and Lucasfilm:
Disney and Lucasfilm today announced Star Wars Force Friday II, a global fan event celebrating the launch of new products inspired by the highly anticipated "Star Wars: The Last Jedi." Toys, collectibles, books, apparel and more will go on sale beginning at

12:01 a.m.

on

September 1, 2017

, with stores around the world opening for a weekend-long celebration of all things Star Wars.
"The first Star Wars Force Friday event was truly unique, uniting fans across five continents in an unprecedented global live unboxing event ahead of thousands of midnight openings at retail," says Jimmy Pitaro, Chairman, Disney Consumer Products and Interactive Media. "We're excited to confirm that Star Wars Force Friday is back for 'The Last Jedi'. Plans for this year's world-wide event are top secret but expect something befitting the excitement around the next episode of the Star Wars saga."
Star Wars fans around the globe embraced Force Friday in 2015, with hundreds of thousands turning up to stores at midnight to be the first to get their hands on merchandise from "Star Wars: The Force Awakens." Toys from the new line were revealed via a global live-stream unboxing event that unfolded over 18 hours, 15 different cities and 12 countries, attracting millions of views on YouTube. Fans took to social media to share their experiences with nearly 3 billion Twitter impressions about the events, using #ForceFriday.
Jill Wilfert, Vice President of global licensing and entertainment from The LEGO Group comments, "It was so much fun to be a part of Star Wars Force Friday, and we can't wait for fans to join this year's celebration as we reveal new 'Star Wars: The Last Jedi' products during Force Friday II – a global event that will connect fans and families, and allow them to build, create and share their experiences with others."
Details of how fans can participate will be revealed closer to the event but the world-wide launch will tap new technology and Star Wars mythology to create a unique experience for fans. Just like 2015, products for "The Last Jedi" will be kept under wraps until Force Friday II to preserve surprises for fans. As well as introducing new characters from the movie in toy form, the line will build on the success of products like Sphero's BB-8, introducing more innovative technology to bring the characters and stories from the film to life in unique ways.
"Toys play a unique role in the Star Wars universe, and we're proud to have been part of that incredible legacy for the past forty years. The new line for 'The Last Jedi' is our most innovative yet, and we're excited to unveil it on Force Friday II," said Samantha Lomow, Senior Vice President at Hasbro.
"Star Wars: The Force Awakens" is the highest grossing movie of all time domestically and that success was mirrored at retail. NPD[1] reported that Star Wars was the number one toy property in the U.S. for 2016 and 2015, and that during the week of Force Friday, $1 for every $11 spent on toys was on a Star Wars item. Additionally, the popularity of the movie propelled Star Wars onto the top ten toy list for both boys and girls for the first time ever in 2015[2].
Also being revealed today is a first look at packaging for "Star Wars: The Last Jedi" products which feature leading heroes: Poe Dameron, Rey and Finn. The trio will be featured on Star Wars packaging beginning September 1, 2017.
Fans can stay tuned to StarWars.com for more details on Force Friday II events, and can follow the conversation on social using #ForceFridayII.