VOTD: How 'When Harry Met Sally' Breaks Genre Conventions [Video Essay]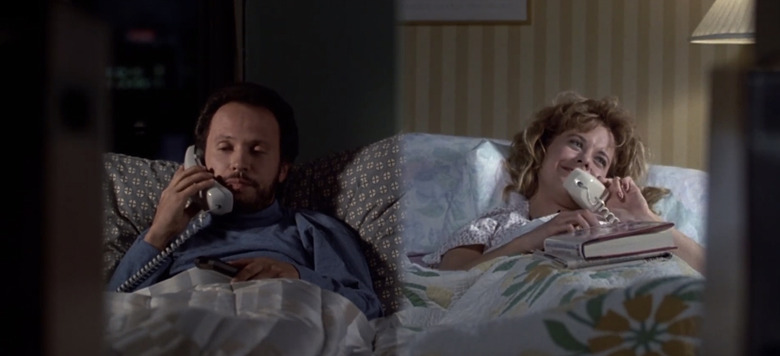 Romantic comedies where a man and a woman who are at odds eventually fall in love are a dime a dozen. That's a story that has been kicked around Hollywood for decades, but audiences keep eating it up. More often than not, nothing new is brought to the table in these movies, but in the case of When Harry Met Sally in 1989, director Rob Reiner and writer Nora Ephron crafted a romantic comedy that adhered to the conventions of the genre but also played with them in a new way.
A new video essay from the Lessons from a Screenplay YouTube channel breaks down how When Harry Met Sally succeeds where many romantic comedies fail, proving why the film is one of the most highly respected, praised and imitated in the genre. Watch the When Harry Met Sally video essay below.
While When Harry Met Sally deals with the convention of a woman and a man hating each other and eventually falling in love, it does so in a unique way. Harry (Billy Crystal) and Sally (Meg Ryan) meet several times over the span of years at various points in their lives, having gone through different relationship trials and tribulations, having changed as people over time, so much that they eventually become friends.
However, rather than giving them some kind of obstacle that keeps them apart, the two are only held back by themselves. Because of this, the movie isn't about the conflict, but rather the relationship and characters themselves. When Harry Met Sally is so revered by screenwriters because of how it handles these two chief characters (as well as the supporting characters played by the late Bruno Kirby and Carrie Fisher) in what is otherwise an extremely derivative story.
It's this same reason that I find the romantic comedy Sleeping with Other People to work so well. The 2015 romantic comedy starring Alison Brie and Jason Sudeikis, written and directed by Leslye Headland, is essentially an edgier, contemporary version of When Harry Met Sally, and it uses its characters and their relationship just as skillfully.