'Dean' Trailer: Take A First Look At Demetri Martin's Directorial Debut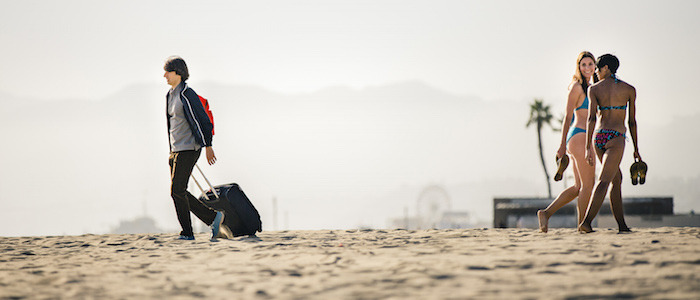 At a glance, Dean sounds like a parody of what many people imagine modern indie cinema to be: a comedian making his directorial debut casts himself in a more-dramatic-than-usual role to tell the story of a morose guy struggling with grief who has to balance family obligations with a new woman in his life. However, Dean has something going for it – the comedian making his directorial debut and starring in that more-dramatic-than-usual role is the very talented and very funny Demetri Martin and the first trailer is here to sell you on the whole thing.
You probably know Martin best from his various stand-up specials or his roles in movies like Taking Woodstock, In a World, and Contagion (or as the creator and star of the short-lived Important Things With Demetri Martin series). If the Dean trailer is any indication, he has some pretty good taste as film director. Why else would he cast Gillian Jacobs, Kevin Kline, and Mary Steenburgen to round out his supporting cast?
Our own Angie Han saw Dean at the Tribeca Film Festival and enjoyed it very much, especially how the film utilizes Dean's simple drawings to emphasize both the film's comedy and drama (as seen in the trailer):
Throughout, Martin's simplistic, almost childlike drawings enhance the goings-on in Dean's life. Some of them are quick gags that serve only to make us laugh — a picture of the letter A, for example, with the middle part labeled "actual A-hole." Others poignantly illustrate Dean's state of mind, like one of a tiny cartoon Dean grasping for dear life to the West Coast as a tiny plane attached to his leg tries to drag him back east. They're the special spice that makes Dean feel a little more unique than your average "quarterlife crisis" dramedy, and at best they serve as gut-punching buttons to the scenes we've just seen. (At least, they're still pretty damn funny.)
Dean will open in limited release on June 2, 2017. Here's the official synopsis:
Writer/Director/Comedian Demetri Martin stars alongside Academy Award winner Kevin Kline in this comedic and heartfelt tale about a father and son coming to terms with love, loss and everything in between.  Dean (Martin) is an illustrator whose unwillingness to deal with the recent death of his mother means escaping his hometown of New York for an interview with an ad agency in Los Angeles.  His retired engineer dad Robert (Kline) takes a more regimented approach to grief, including putting the family home up for sale.  Both father and son set out on their own paths to find a new normal as unexpected circumstances and potential new love interests threaten to thwart all plans.