'Love Actually' Cast Getting Back Together For A Sequel, But There's A Catch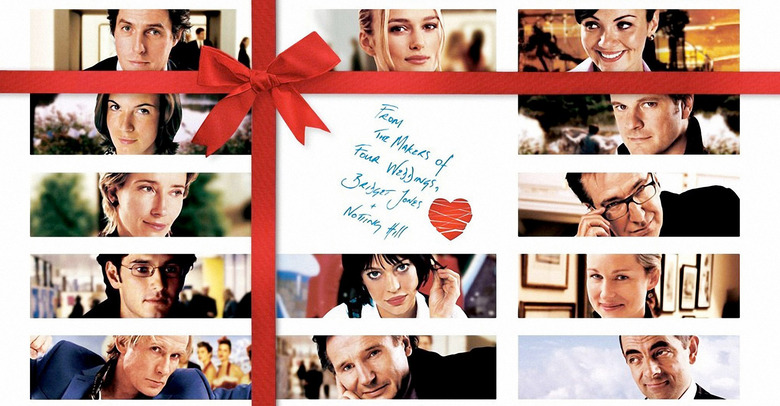 For the most part, Love Actually is a beloved holiday movie, even though there are those who have started to express their hate for the movie as time has gone on. Personally, as cheesy as it is, I think it's quite the charming romance featuring a fantastic ensemble cast from across the pond that includes Hugh Grant, Keira Knightley, Colin Firth, Liam Neeson, Bill Nighy and many more. Now we'll get to see what all those characters are up to 14 years later in a Love Actually sequel, but it's not exactly what you think. Find out the details after the jump.
Deadline has word that director Richard Curtis is getting the Love Actually cast back together for a sequel that will show us what each of their characters is up to in 2017. However, this isn't a feature-length sequel, but rather a short film that's being produced in conjunction with Comic Relief's Red Nose Day fundraiser. The Love Actually sequel short, titled Red Nose Day Actually, will first air on BBC One on March 24, and then air on NBC a couple months later on May 25.
The cast members being brought back for the Love Actually sequel include Hugh Grant, Keira Knightley, Colin Firth, Liam Neeson, Bill Nighy, Thomas Brodie-Sangster, Martine McCutcheon, Andrew Lincoln, Lucia Moniz, Olivia Olson, Marcus Brigstocke and Rowan Atkinson.
For those Love Actually fans keeping track, that leaves out the likes of the characters played Laura Linney, Emma Thompson, Rodrigo Santoro, Martin Freeman, Joanna Page, Chiwetel Ejiofor and Kris Marshall. But since this is a short, I'm sure they can only cover so much. Plus, plenty of those actors are a bit more in-demand than they were back in 2003, so some of them might have been busy. On a more sad note, since Alan Rickman passed away over a year ago, that's probably why Emma Thompson's character isn't included. That would be a tough segment to update.
Here's what Curtis had to say about the project:
Over the years I've enjoyed doing Red Nose Day specials of TV things I've worked on — Blackadder, The Vicar Of Dibley and Mr Bean. It seemed like a fun idea this year to do a special sketch based one of my films, since Red Nose Day is now in both the UK and America. I would never have dreamt of writing a sequel to Love Actually, but I thought it might be fun to do 10 minutes to see what everyone is now up to. Who has aged best? — I guess that's the big question... or is it so obviously Liam?
It remains to be seen if this will be a more tongue-in-cheek special since it's Red Nose Day or if this is something fans can accept as a legitimate follow-up to Love Actually. The film has some loyal fans, so they might not be satisfied with the path some of these characters have taken.
But in the end, the important thing is that Red Nose Day results in raising more money to help those in need. Make sure you tune in and give money if you can. Learn more about Red Nose Day and how to help over here.