Australia's Brilliant Tim Minchin Will Be Friar Tuck In 'Robin Hood: Origins'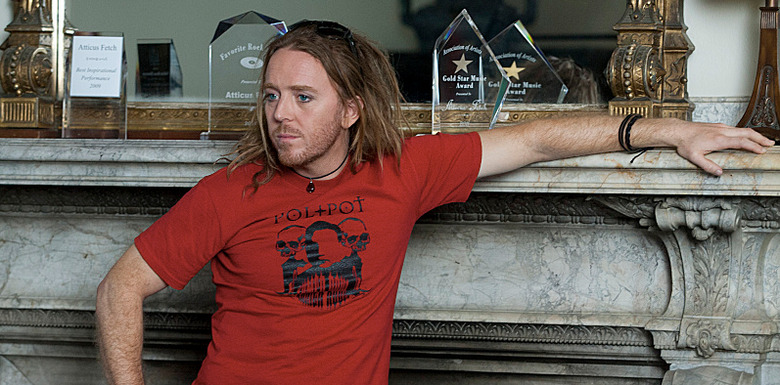 One of the stories that has been retold over and over again is that of Robin Hood, the thief who stole from the rich and gave to the poor. There have been countless iterations of the typically green-clad archer from English folklore, and in case you haven't heard, one more is coming from Lionsgate in the form of Robin Hood: Origins.
It has been said that Robin Hood: Origins will do for bow-and-arrow action what John Wick did for gunplay, and with Kingsman: The Secret Service star Taron Egerton taking the lead role, I wouldn't be surprised if the action does deliver something entertaining. Still, that doesn't necessarily justify yet another Robin Hood movie when there are so many original scripts out there begging to be made. However, one new addition to the cast will certainly help make it more appealing: Australian comedian, singer, actor, director and composer Tim Minchin as Friar Tuck.
If you're not familiar with Tim Minchin, since it's Valentine's Day I'll share this love song of his:
Tim Minchin is quite popular in Australia as a comedian and actor, though he hasn't found as much fame in the United States, at least not yet. However, there's a chance you may already be familiar with him if you watched the Showtime series Californication. He played the character Atticus Fetch for 10 episodes on the series, making for quite a memorable supporting character.
Otherwise, Minchin has garnered plenty of acclaim for his work as a composer and lyricist for the Tony-Award-winning stage musical adaptation of Matilda. In addition, he's the man behind the musical adaptation of Groundhog Day, which already had a successful run in the United Kingdom and will be coming to the United States this spring.
It's surprising to hear from THR that Tim Minchin's first major role in an American feature film won't having him using his musical talents (he is co-directing and writing a musical for DreamWorks Animation called Larrikins), though I suppose Friar Tuck could sing a jaunty tune at some point in Robin Hood: Origins. After all, Friar Tuck is usually a jovial monk with a love for food and ale who brings some spirit to Robin Hood's Merry Men. But he's also fat and bald, two things that Minchin is not. But this is Robin Hood: Origins, emphasis on the latter word in the title, so this version of Friar Tuck could be a bit different from what we're used to.
The rest of the Robin Hood Origins cast includes Jamie Foxx as Little John, Eve Hewson as Maid Marian, Jamie Dornan (rumored) as Will Scarlet and Ben Mendelsohn as the Sheriff of Nottingham. They'll all be directed by Peaky Blinders helmer Otto Bathurst with a script by Joby Harold, who also wrote the upcoming King Arthur: Legend of the Sword for Guy Ritchie.
Robin Hood: Origins arrives on March 23, 2018.