Listen To A Song Cut From 'Moana' And Sung By Two 'Hamilton' Stars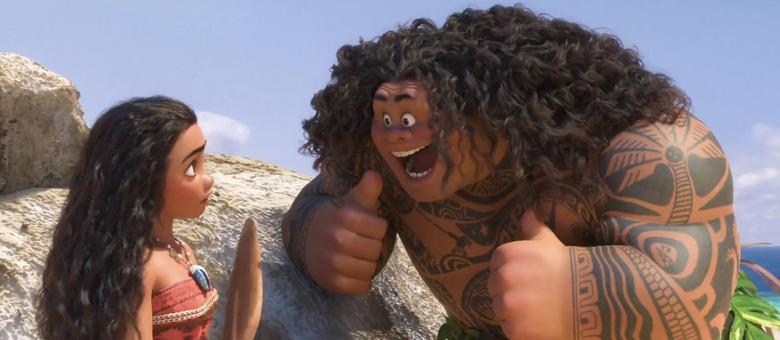 The best thing about Disney's Moana is that it is unabashedly an old-school musical, with its unique setting and fantastical story adding a fresh flavor to an experience that is defined by incredible showstoppers. And like every musical ever conceived since the dawn of the form, not every track written for the film made it into the final cut. Thankfully, we live in an age of home video special features and even more thankfully, we live in an age where those special features arrive online in advance of the actual Blu-ray and DVD release, allowing us to hear a sample from one of those songs that didn't make the final cut.
Like the rest of the songs on the Moana soundtrack, "Warrior Face" was c0-written by Lin-Manuel Miranda, the writer and star of Broadway's mammoth hit, Hamilton. Thanks to a new video that debuted over at Entertainment Weekly, we can see exactly where this song was supposed to go in the movie and what purpose it was meant to serve, with Miranda setting things up with a little talking head intro. Specifically, it belonged right before Moana and Maui face off against the crab-monster Tamatoa and it was all about Dwayne Johnson's mighty demigod teaching Auli'i Cravalho's chieftain-to-be how to intimidate their enemies.
As is the case with most animated movies, the scene was cut before much work was done on it, which means this scene only exists as a storyboard with some loose animation.
And as you can hear, the voices used in the scene do not belong to Johnson and Cravalho, but they should be familiar to Hamilton aficionados. That's Christopher Jackson, who played the original George Washington for Miranda on stage, as Maui and Phillipa Soo, AKA, Elizabeth Schuyler, as Moana. Both of them actually have roles in the final film, with Jackson providing Chief Tui's singing voice and Soo playing...an unspecified villager. Hey, all of us do favors for friends.
Even in this rough form, it's easy to see why "Warrior Face" was cut. It arrives in the middle of one of the film's more intense sequences and would probably dispel the tension that has been so well established. More importantly, it would arrive mere moments before Jemaine Clement's "Shiny," one of the film's best songs and a number that deserves a little breathing room.
However, it was the wonderful "How Far I'll Go" that earned Miranda his first Oscar nomination, an honor he shares with Opetaia Foa'i and Mark Mancina. Maybe they'll escape the La La Land freight train in a few weeks and go home with the gold.
Moana, which was one of our favorite movies of last year, hits Blu-ray and DVD on February 21, 2017.