How 'Stranger Things' Is Taking Notes From 'Game Of Thrones'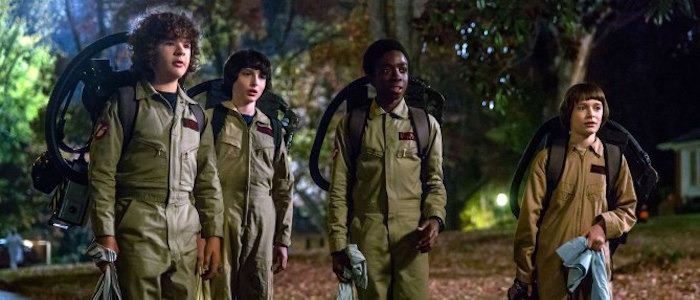 We've written before about how much fun it was to discover Stranger Things last year when it arrived on Netflix with limited fanfare and became a phenomenon overnight. But like a newly minted movie star who suddenly himself hounded by fans in the streets he could once walk through unnoticed, the throwback science fiction series now has to deal with all of the problems that come with fame. Especially, all of the people who want to get up in its business. More specifically, all of the people who wouldn't mind learning a thing or two about the new season's plot in advance of its October arrival date.
Thankfully, the Stranger Things crew could turn to Game of Thrones, a veteran member of the Popular Television Show Club, for tips on how to keep its secret safe.
Speaking with Entertainment Weekly, Stranger Things executive producer and director Shawn Levy revealed that they talked to the crew of HBO's massively popular fantasy drama to learn how they keep their plot points under wraps:
We literally consulted with the producers on Game of Thrones to learn security protocols. [...] We had no security protocols last season and we have extensive security protocols this season. I can't speak about what they are because then people could crack them. We protect every story point, every page of every script.
For an idea of what this process entails, here's co-creator and co-showrunner Ross Duffer:
I just knew I used to throw my sides away and now they have to be burnt.
So there you go, internet: you're forcing the Duffer brothers to literally burn their notes to keep them from falling into the wrong hands. Not even shredders are a safe option anymore!
And while I'm the exact kind of monster who would totally read spoilers should they arrive on my doorstep, I appreciate productions bending over backward to protect this stuff. While I'm a gentleman when it comes to spoilers, someone who ruins shows for himself and keeps the details to himself, there are plenty of bonafide jerks out there who wouldn't think twice about who would shout this stuff from the rooftops of social media just because they can. Monsters. The lot of you.
While Game of Thrones has seen its fair share of leaks (it's hard to hide a character resurrection when the actor can be seen galavanting around Belfast), it's been relatively tight for a series as massive as it is. If Stranger Things is going to keep its cards close to the vest, they're certainly taking notes from the right people.
And since there are no spoilers to see anywhere, feel free to check out our breakdown of the first trailer, just in case there's something to gleam.