'Unbreakable Kimmy Schmidt' Season 3 Teaser & Premiere Date: Titus Does His Best Beyoncé Impression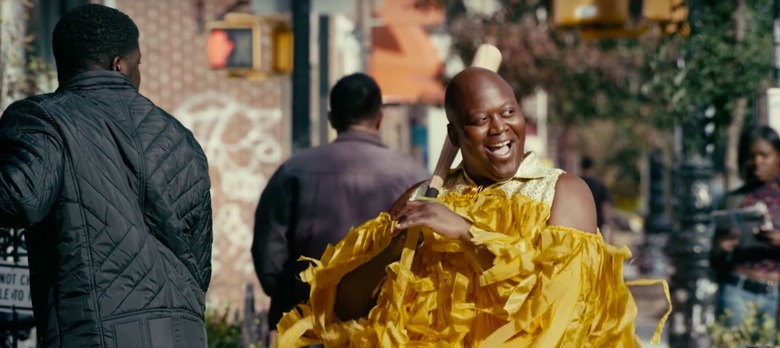 Netflix announced a whole bunch of upcoming release dates last week, but leave it to Titus Andromedon to be fashionably late. On the bright side, this means he gets to capitalize on the renewed buzz surrounding Beyoncé's Lemonade following her showstopping performance at the Grammys last night — because, naturally, the first Unbreakable Kimmy Schmidt season 3 teaser has him doing his very best knockoff rendition of "Hold Up."
Watch the first official Unbreakable Kimmy Schmidt season 3 teaser, which also reveals the Unbreakable Kimmy Schmidt season 3 premiere date, below. 
Unbreakable Kimmy Schmidt Season 3 Teaser
In retrospect, it was probably inevitable that Unbreakable Kimmy Schmidt would try to put its own spin on Lemonade. And based on this first season 3 teaser, it looks pretty good! Composer Jeff Richmond and the rest of the Kimmy Schmidt team have always been really, really good at riffing on popular songs and musical styles. Season 2 featured one episode jam-packed with fake Broadway numbers (e.g., "A Glorious Morning" from Alabama!, the black version of Oklahoma!) and another one soundtracked by soundalike pop singles (i.e., the Now That Sounds Like Music! compilation album). They're close enough that you could almost mistake them for the real thing, but get funnier and weirder the more closely you listen. I can't wait to find out what they've done with Lemonade. Titus might finally have a song that gives "Peeno Noir" a run for its money.
... Who are we kidding. Nothing's ever going to beat "Peeno Noir."
As you can see above, Unbreakable Kimmy Schmidt season 3 premieres May 19.
Ellie Kemper stars as Kimmy Schmidt, a woman who escapes from a doomsday cult and starts life over in New York. Armed with just a backpack, light-up sneakers, and a couple of way-past-due library books, she's ready to take on a world she didn't even think existed anymore. Wide-eyed but resilient, nothing is going to stand in her way.