'Carpool Karaoke' Trailer: James Corden's Popular Late Night Segment Goes Solo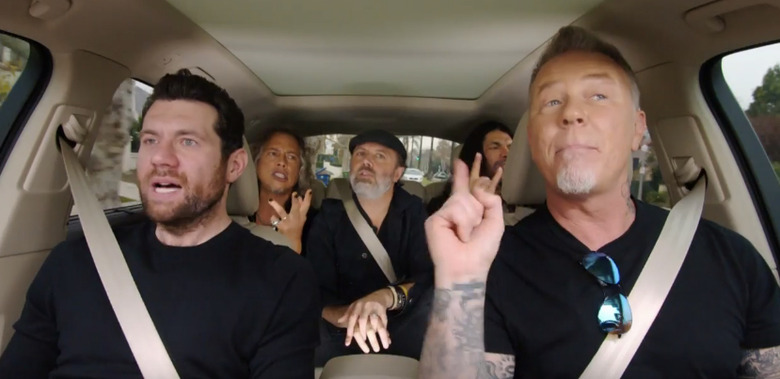 Even if you're not a regular viewer of The Late Late Show on CBS with host James Corden, there's a good chance you've heard of his popular, consistently viral segment known as Carpool Karaoke. In the recurring segment, James Corden hops in a car with a famous celebrity, usually a chart-topping singer but sometimes just another figure in pop culture, and they cruise around Los Angeles jamming out to an assortment of songs in the car, just like you and me. This year, that segment gets its own series.
Carpool Karaoke: The Series will be the first programming endeavor for Apple as they start to expand into original programming. Last night the first trailer debuted in front of the perfect audience during the Grammys, which were hosted by James Corden, and featured a few of the famous faces that he's shared a ride with before. The trailer shows that Corden won't be hosting every episode, but there's quite a cavalcade of talent from across the board to make up for it.
Watch the Carpool Karaoke trailer after the jump.
What might make this Carpool Karaoke series even more interesting is how some of the celebs are paired up for the show. For example, John Cena and Shaquille O'Neal are cruising around together, and Billy Eichner and Metallica take a trip around the city too. Plus, the show will expand a little more beyond the car as they make some stops at various spots around Los Angeles, surprising random people.
James Corden will appear here and there, as he's seen alongside Will Smith, while other guests/hosts include Alicia Keys, John Legend, Ariana Grande, Seth MacFarlane, Chelsea Handler, Blake Shelton, Michael Strahan, Jeff Gordon and more. I think the conversations these people have will be the most interesting part of the show, like another iteration of Comedians in Cars Getting Coffee, just with a little more showmanship.
Based on the segment that has become a global, viral video sensation on The Late Late Show with James Corden, the new Carpool Karaoke series features 16 celebrity pairings riding along in a car together as they sing tunes from their personal playlists and surprise fans who don't expect to see big stars belting out tunes one lane over.
Carpool Karaoke is produced by CBS Television Studios and Fulwell 73. James Corden and Ben Winston serve as co-creators and executive producers along with executive producer and showrunner Eric Pankowski.
Carpool Karaoke hits Apple Music sometime this year.