Laurence Fishburne Won't Appear In 'Justice League'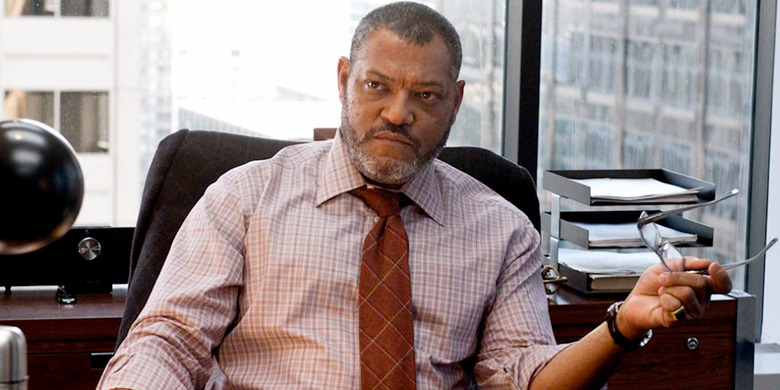 When a movie like Justice League has six superheroes that need to share screentime, it should come as no surprise that some of the supporting characters who don't throw on a cape and/or tights end up sitting out of the fun.
In addition to our superheroes like Batman (Ben Affleck), Wonder Woman (Gal Gadot), The Flash (Ezra Miller), Aquaman (Jason Momoa), Cyborg (Ray Fisher) and the return of Superman (Henry Cavill), other returning cast members will include Amy Adams as Lois Lane, Jesse Eisenberg as Lex Luthor and Jeremy Irons as Alfred Pennyworth. But one DC Expanded Universe star who has appeared in both Man of Steel and Batman v Superman: Dawn of Justice won't be around for Justice League.
Find out why the Justice League cast won't include Laurence Fisburne as Perry White after the jump.
Laurence Fishburne has been making the publicity rounds for his appearance in John Wick: Chapter 2, and because he's part of the much discussed DC Expanded Universe, a conversation with The Los Angeles Times turned to Justice League. But Fishburne explained that he won't be appearing in that movie, though they did try to make it work:
They asked me to come for a day, but I couldn't work it out, schedule-wise. And really, what do you need the newspaperman in "Justice League" for? You want to see the Flash. You want to see Aquaman. You want to see Wonder Woman. You want to see the Lantern.
The movie is called Justice League, so most people probably don't feel an inherent need to know what the editor-in-chief of The Daily Planet is doing in every single chapter of the DC Expanded Universe. In the same breath that Laurence Fishburne acknowledges how much more important the superheroes are than Perry White, he also gives some props to Marvel for beating DC to the punch:
We've been waiting 35 years for these [characters] to show up on the screen. What were they doing over there? Marvel has been kicking their ass. This is the comic-book geek in me, who has a collection of comic books. I've been waiting to see these people on-screen forever.
Laurence Fishburne doesn't sound too upset about not being included in Justice League, so hopefully no one else is either. Also, before you jump on Fishburne for seeming like he's down on DC movies, he was quick to defend Batman v Superman against all the hate out there from critics and general audiences alike:
Look, I love what Zack Snyder does. Jesse Eisenberg, this little nebbishy guy, as Lex Luthor? For me, that's a genius move. And the whole thing with Martha Kent and Martha Wayne? I don't know, man, I must be sentimental but that's some heartwarming [stuff] to me. So I don't get it.
We'll just let you get to debating about Batman v Superman yet again while we wait for Justice League to arrive in theaters on November 17 this year.