'John Wick: Chapter 2' Kill Counter Breaks Down All The Bloody Stats [Infographic]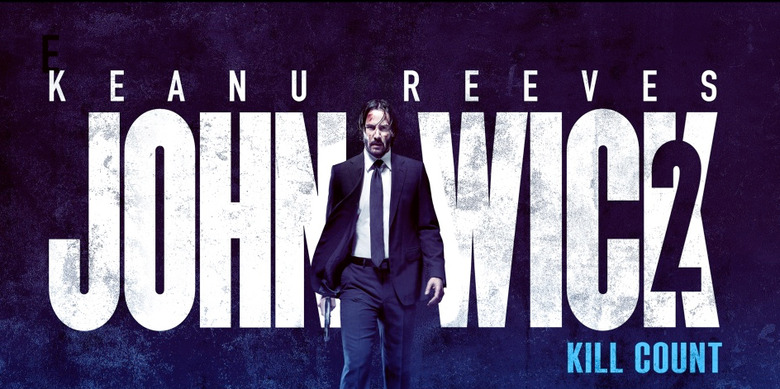 This weekend, John Wick stormed back into theaters, and with an estimated $30 million and some change raked in for its opening weekend, John Wick: Chapter 2 has more than double the opening weekend of its predecessor. That just goes to show you how the audiences has grown since the first film, something that usually doesn't happen with sequels like this.
Along with a higher box office, Keanu Reeves also took out even more bad guys this time. The original movie gave John Wick a kill count of 84, as confirmed by co-director David Leitch, but the John Wick 2 kill count increased that by about 50%, proving why you don't stab the devil in the back.
Here's an infographic breaking down all of John Wick's kills in the sequel (via Visu):

The infographic even goes so far as to break down how John Wick killed him, including the different guns he used. And if that's not enough, it goes so far as to show how accurate he is with his weaponry in these action sequences. Plus, at the end, you get to see a breakdown of where he targeted his enemies. It should come as no surprise that John Wick likes shooting his enemies in the head the most, followed closely by the chest. He's a professional after all.
You'd be hard-pressed to find a single man who takes down so many people in such a short period of time and also has some seriously impressive accuracy when it comes to his hit and miss ratio. The only way to find out would be to have some kind of face off between John Wick and someone like Jason Bourne. Sadly, we'll probably never see that happen.