'New Mutants' Director Josh Boone Seemingly Confirms Maisie Williams As Wolfsbane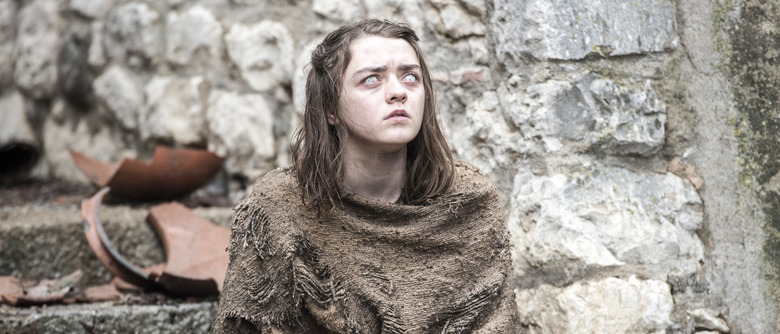 Production on the X-Men spin-off New Mutants is rumored to begin in April or May this year with The Fault in Our Stars director Josh Boone at the helm. 20th Century Fox hasn't made any official announcement about the project, but there have been plenty of details that have surfaced. Now one of those details seems to have been confirmed by Josh Boone himself.
Game of Thrones star Maisie Williams has been linked to the cast of New Mutants, though no word on her involvement has been confirmed by anyone. Josh Boone may have just done that though by sharing a piece of art featuring the actress as Rahne Sinclair, the mutant who comes to be known as Wolfsbane, due to the fact that she can transform into a wolf.
See the art of Maisie Williams as Wolfsbane in New Mutants after the jump.
Here's the piece of art that Josh Boone shared on Twitter:
This would seem to confirm that Maisie Williams will indeed be playing Wolfsbane in New Mutants. Otherwise it would be rather misleading of Josh Boone to share this piece of art. Wolfsbane was one of the mutants featured in the comic art that Josh Boone posted last spring to tease the team line-up. The transforming mutant was featured along with Mirage (aka Dani Moonstar), a Cheyenne girl who can cast illusions; Magik (aka Illyana Rasputin), a Russian sorceress who can teleport through time and space; Cannonball (aka Samuel Guthrie), a Kentucky guy who can propel himself like a rocket; and Sunspot (aka Roberto da Costa), a Brazilian mutant who can absorb and channel solar power.
Along with Maisie Williams, other rumored cast members to play these New Mutants have included Anya Taylor-Joy (Split, The Witch) and Nat Wolff (The Fault in Our Stars, Paper Towns). Taylor-Joy could be up for either Mirage or Magik, but she hasn't been linked to either character yet. Wolff, on the other hand, has been rumored to be in the running for Cannonball.
Beyond that, the cast has also been said to possibly include Alexandra Shipp reprising her role as Storm from X-Men: Apocalypse. Otherwise, James McAvoy has seemingly been confirmed to have a role in the movie as Professor X. Again, there hasn't been any official announcement from 20th Century Fox on any of this, but Josh Boone has been making some not so subtle hints about what's in store for us from New Mutants.
With the rumored production start getting closer, hopefully Fox will have an announcement to make about the movie. The only solid facts right now are that it will be directed by Josh Boone and written by (500) Days of Summer scribes Scott Neustadter and Michael H. Weber. No release date has been set yet, but expecting the movie in 2018 would probably be a safe bet.