'Guardians Of The Galaxy Vol. 2' TV Spot: The Guardians Go To Suffragette City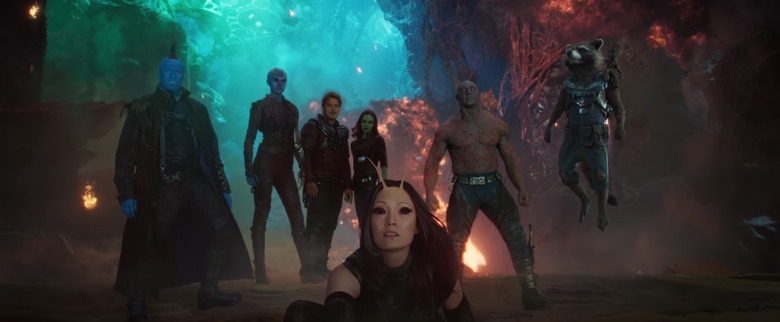 When David Bowie died in January of 2016, director James Gunn expressed his grief and also mentioned that there was once an idea tossed around to have the iconic musician make a cameo in Guardians of the Galaxy Vol. 2. Unfortunately, at the time, Bowie's health was already keeping him from doing things like that.
The first Guardians of the Galaxy featured the track "Moonage Daydream" from David Bowie, and following Bowie's death, James Gunn said he was trying to get another song off the album The Rise and Fall of Ziggy Stardust and the Spiders from Mars. It appears we may know what that song is thanks to a new Guardians of the Galaxy 2 TV spot, which you can watch below.
While there's not much new footage to be seen in this TV spot, it's the presence of David Bowie's song "Suffragette City" that makes it worth watching. In addition, it looks like our ragtag team of space misfits like carrying out their ass-kicking duties to the tunes provided by Star-Lord's awesome mixtapes. There's a shot in this trailer featuring Baby Groot plugging in a cord with Star-Lord's Walkman and what appears to be a couple of speakers behind him. Check it out: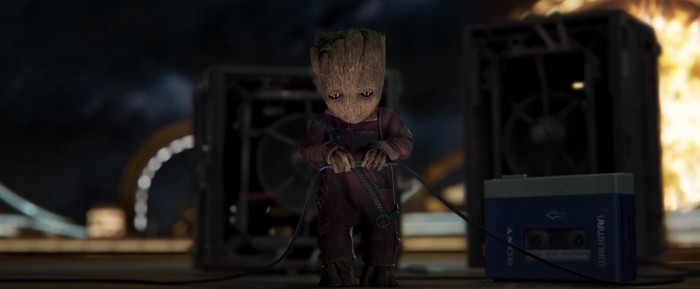 This appears to be during the sequence where the Guardians of the Galaxy are fighting the creature known as an abilisk. Now there's no guarantee that "Suffragette City" is the song that will play during that scene, but that would be great. Here's what James Gunn said previously about fitting Bowie into the soundtrack for Guardians of the Galaxy 2:
Bowie was an idol of mine, huge and omnipresent. Few artists in any field have had as an indelible impression upon me as he has. To my mind, Ziggy Stardust is perhaps the greatest rock and roll album of all time. We featured "Moonage Daydream" in Guardians, but I always thought the album's character was felt far beyond that, in the aesthetics, in the integral and seemingly-natural linking in popular culture of '70's rock and space opera. I've been trying to work another song from Ziggy into the sequel, which would make Bowie the only artist to have a song on both Vol. 1 and Vol. 2. I thought this was fair and appropriate. Although I cut the scene it was used in from the script, we have the rights. Who knows. Maybe I can figure a way out.
Otherwise, the only other notable new parts of this Guardians of the Galaxy 2 TV spot are these two new shots:
One features Drax the Destroyer (Dave Bautista) kicking down a door with Gamora (Zoe Saldana), Mantis (Pom Klementieff) and Nebula (Karen Killan) in tow. In addition, there's another shot of Gamora using some giant weapon that we've seen in footage before. As Guardians of the Galaxy Vol. 2 gets closer, we might learn more about just what is happening in these sequences, but I'm hoping all the good stuff is kept under wraps until the sequel arrives on May 5.
If you want to see more from Guardians of the Galaxy Vol. 2, you can watch the teaser trailer right here and the recently released Super Bowl spot right here.