'Ant-Man And The Wasp' Will See The Return Of Michael Douglas' Hank Pym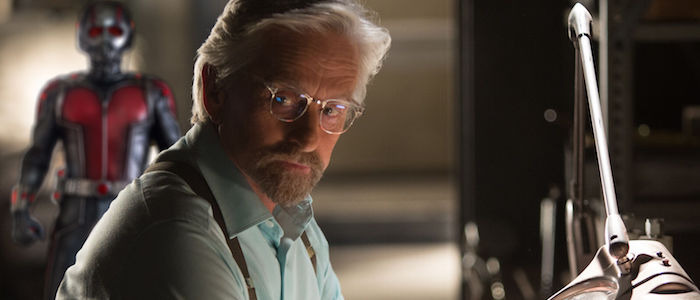 When most actors join the Marvel Cinematic Universe, they sign a contract with their own blood, binding their soul to the franchise until they fulfill their number of movies or sacrifice That Which They Love The Most before the statue of Stan Lee hidden in crawlspace under the McGraw Hill Building in New York City. But not Michael Douglas. Oh, no. When the Academy Award-winning living legend signed on to play the aging former superhero Hank Pym in Ant-Man, he only signed on for a single movie, leaving his involvement in the upcoming sequel a big question mark.
Well, it's time to straighten out that question mark into an exclamation point because Douglas has now confirmed that he'll be back for Ant-Man and the Wasp.
The news comes to us via Douglas' official Facebook page, where he's posted a picture of himself striking a debonair pose in front of the original film's poster. He also notes that the sequel is set to begin filming in July, which makes sense since the film is due in theaters on July 6, 2018.
Like Robert Redford in Captain America: The Winter Soldier and Anthony Hopkins in Thor, Douglas' mere presence in Ant-Man lent each of his scenes a lovely gravitas. When you're making a movie about a guy who can shrink and talk to ants, an extraordinary actor is required to help sell that specific brand of silly. And Douglas, so charming and funny as Hank Pym, did just that, offering a weary foil for Paul Rudd's in-over-his-head Scott Lang.
Previously, Douglas spoke about possibly appearing in the movie, saying that he had a grand 'ol time on the original but couldn't confirm his involvement in the sequel:
I just got a call recently — they want to negotiate for a sequel and I thought 'That's great!' Hopefully, I won't have to carry quite as much expositional dialogue as the first one but I had a wonderful time doing it. Just a great, great time. The cast was fantastic. Paul [Rudd], Evangeline [Lilly], Michael Peña — I'm sure he'll be back. If they can scrape Corey Stoll off the wall, I'm sure they'll want him too — he's such a good villain. And Peyton Reed too. It was a lovely experience, so you know, I welcome it. I chuckle about being involved with a movie that already has a release date in 2018. Ya know, it's hard to conceive of that, but it's all good, all the way around, it's all good.
Naturally, Douglas will once again join Rudd and Evangeline Lilly, whose Hope van Dyne will finally get the chance to suit up this time around, with original director Peyton Reed returning to call the shots. And because sometimes the world is a nice and caring place, the wonderful Michael Peña will be back as well.