'Jurassic World' Serves Up Ted Levine To The Dinosaurs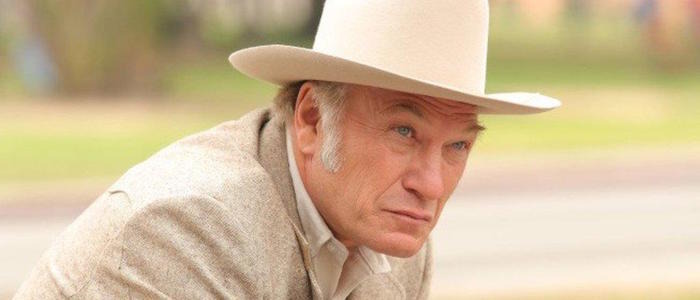 Universal and director J.A. Bayona have been slowly assembling Jurassic World 2's buffet, er, ensemble over the past few months, with Rafe Spall, Toby Jones, and Justice Smith joining Chris Pratt and Bryce Dallas Howard in the upcoming sequel. And because dinosaurs will always have a taste for fine character actors, Ted Levine has been served up as the latest addition to the cast.
The news of Levine's casting comes our way via Variety and like everything else associated with the not-publicly-titled sequel, his character is being kept under wraps. But if someone wants to fly me to Las Vegas, I'll gladly put $100 on his character getting real up close and personal with the sharp end of a T-Rex before the credits roll.
Although best known for playing the psychotic serial killer Jame "Buffalo Bill" Gumb in The Silence of the Lambs, Levine has spent the bulk of his career playing figures of authority across film and television. He was a cop in The Fast and the Furious. He was a general in Wild Wild West. He was astronaut Alan Shepard in From the Earth to the Moon. He was a colonel in Memoirs of Geisha. He was a sheriff in The Assassination of Jesse James by the Coward Robert Ford. He was that police captain on 125 episodes of Monk. He was a cop on The Bridge. Look, I'm not saying Levine is going to play a figure of governmental or local authority in Jurassic World 2, but I am saying look at the evidence. Someone want to fly me to Vegas again?
Jurassic World 2 is set to begin filming soon from a script by original Jurassic World writers Colin Trevorrow and Derek Connolly. Of course, Trevorrow also directed the previous entry, but he's too busy working on some movie called Star Wars: Episode 9 to film a movie where dinosaurs probably eat Ted Levine. That responsibility falls to Bayona, the undoubtedly skilled director of The Orphanage, The Impossible, and A Monster Calls. Following that emotionally harrowing trilogy, it's going to be interesting to watch him cut loose with something a bit more fun...even if his take will be a bit darker and a bit more political:
Yeah, you're right. I think there's a lot of that in the new 'Jurassic.' I think there's a lot of possessiveness towards our creations. I think it's very interesting where the new movie is heading. It's so different from the other films, it talks a lot about the moment we live in right now. It's darker... but at the same time it's going to be a lot of fun. It's a blockbuster, you have Chris Pratt, it's a great adventure, but it's very interesting the way the film is darker than the other ones.
And while we don't have a title, we do have a release date: the untitled follow-up to Jurassic World will arrive on June 22, 2018.