'Unlocked' Trailer: Noomi Rapace And Orlando Bloom Go Full Jack Bauer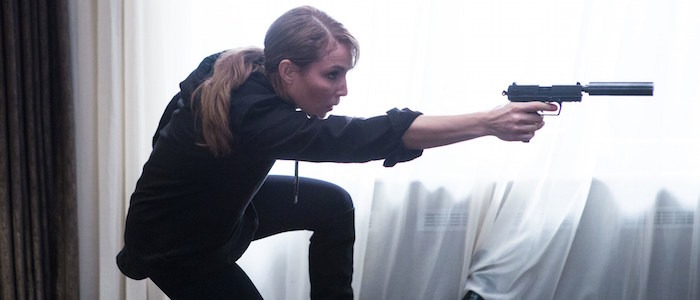 I wouldn't be surprised to learn that Unlocked was originally conceived over a decade ago – the trailer feels like something we'd be seeing in theaters around 2004 or so, at the height of Hollywood's attempt to come to grips with the events of September 11, 2001. You have a heroic CIA interrogator (which has become something of an oxymoron) battling Islamic terrorists to prevent a biological attack in London. This thing looks like a throwback to the days when Jack Bauer was shooting out kneecaps and beating up ACLU lawyers on Fox's 24. It feels positively ancient.
But maybe that's part of the appeal? After all, 24 is back. Maybe it will be fun to watch Noomi Rapace and Orlando Bloom running around London shooting people while respected character actors furrow their brows in expository scenes where they have to talk about where bombs are located and who sold them out and so on. Maybe?
Perhaps the weirdest thing about Unlocked is that it's the next film from director Michael Apted, a filmmaker with one of the strangest careers imaginable. For some audiences, he's best known as the director of the Up series of documentaries, where he catches up with and interviews the same subjects every seven years. For others, he's best known for directing Sigourney Weaver to an Oscar nomination in 1988's Gorillas in the Mist. More recently, he's helmed episodes of Ray Donovan and Masters of Sex. And he has plenty of action experience as well, having directed the James Bond movie The World is Not Enough and the third Chronicles of Narnia movie.
While there are many elements present in this trailer that make me simultaneously roll my eyes and cringe, I'd be lying if I said I have no interest in watching Rapace and Bloom, two actors I like who have managed to elegantly sidestep potential movie stardom, getting their B-movie action hero on. And look, Toni Collette, John Malkovich, and Michael Douglas are the exact kind of people you want shouting at rooms full of computer analysts in-between the action scenes.
Oh, and the film's tagline is "To stop the terror, they must fight the conspiracy." Holy shit. What does that even mean?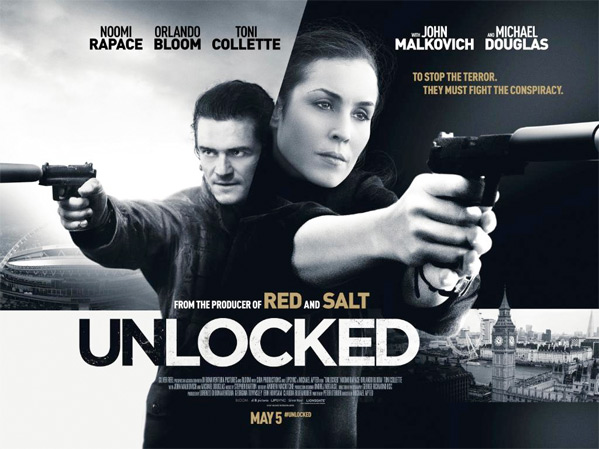 Unlocked is set to open on May 5, 2017 in the United Kingdom. It doesn't have a North American release date yet.
Noomi Rapace stars as a CIA operative who finds her mission compromised. She's forced to team up with an MI5 agent, played by Orlando Bloom, to track down the terrorist infiltration and prevent a major attack in London.