Olivier Megaton Directing Keanu Reeves In NASCAR Movie 'Rally Car'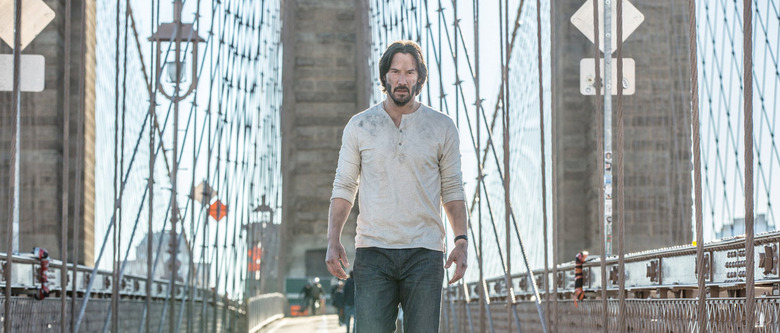 Keanu Reeves is going to play an American NASCAR driver down in the dumps. Almost a year and a half ago, the John Wick: Chapter Two star became interested in Rally, an action-comedy prominently set in China. Reeves' character gets a second chance at greatness when he enters an international race across China.
Below, learn more about the new Keanu Reeves NASCAR movie.
The Hollywood Reporter writes that Reeves will star in Olivier Megaton's film. Megaton most recently directed some of the fast-cut, sometimes incomprehensible action in Taken 2 and Taken 3. A year ago, Harald Zwart (The Karate Kid remake) was attached to direct Rally Car, but he departed from the project. Jeremy Lott (Sony's Robin Hood movie) wrote the Reeves-produced action movie based on Stephen Hamel's treatment.
Reeves is playing a former champion NASCAR driver who doesn't want to believe he's lost his touch behind the wheel. When his personal life and career go up in flames, he's forced to drive in a high-stakes international rally race across China. He's not alone for the ride, though. His teammate is a young Chinese woman, who wants to drive like Reeves' character one day. That role isn't cast yet.
Megaton begins shooting the film in China and North America this summer. Lionsgate, the distributor of the John Wick movies, is staying in the Keanu Reeves business. The studio bought the U.S. distribution rights to Rally Car. Jason Constantine, president, acquisitions, and co-productions, said in a statement:
We are thrilled to be in business once again with Keanu Reeves, who is extraordinary in the John Wick franchise, and we believe Rally Car has tremendous potential to see Keanu in action once again, this time behind a steering wheel. Jeremy has done a great job with the screenplay, featuring a multinational cast of characters, and we're happy to have Olivier directing another great movie for us.
Thankfully, this isn't the only Keanu Reeves project we've recently heard about moving forward. Last week Variety reported the actor will star in director Matt Ross' (Frank & Lola) new thriller, Siberia, which is about an American diamond trader trying to sell some sketchy diamonds in Russia. The character begins an "obsessive relationship with a Russian cafe owner" as he navigates the dangerous territory he finds himself in. Reeves — whom the whole world should witness in John Wick: Chapter Two this weekend — will film Rally and Siberia this year. We'll next see the actor in Ana Lily Amirpour's The Bad Batch, due out this summer.