'Stranger Things' Season 2 Photos: Back To Good Old Hawkins, Indiana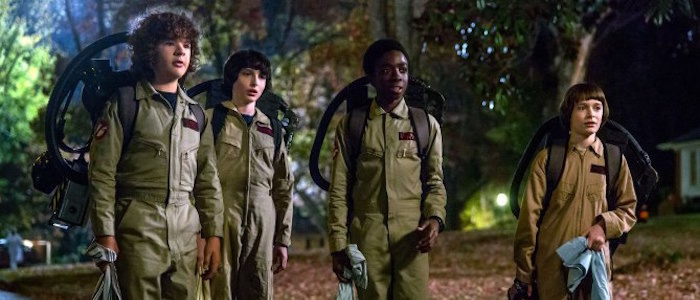 As we learned over the weekend, Stranger Things season 2 isn't actually coming for another nine months. But Netflix's marketing team seems determined to make sure you spend every day between now and then longing to return to Hawkins, Indiana. Following the release of that first teaser trailer, a slew of new Stranger Things season 2 photos have just hit the web. Though plenty of time has passed since the events of season one (about a year, according to star David Harbour), it looks like this sleepy town is still dealing with the fallout from its brush with the Upside Down. See the Stranger Things season 2 photos below.
Entertainment Weekly unveiled the new Stranger Things season 2 photos.
What exciting photos of all your favorite characters... that show us not very much at all about what we can actually expect from season two. The shot of the kids in their Ghostbusters costumes is cute — and it does look like they're staring at something interesting — but we already knew  what they were gonna dress as for Halloween. Maybe the most striking image is the one of Will Byers (Noah Schnapp), who seems uneasy around his classmates. All that said, I love Joyce and Nancy and Jonathan and especially Hopper, and I'm just glad to see them all again. I've gotta ask, though: where the hell is Steve? I miss that dude and his crazy hair.
If you thought these were not very revealing, wait 'til you feast your eyes on the other Stranger Things season 2 photo that EW shared. Yep, it's an Eggo waffle. It's just sitting there all by itself, doing nothing at all. Are there, perhaps, some secret messages hidden in those delicious golden nooks and crannies? I don't know, but feel free to stare at the image until you figure it out or go mad.
To be fair, we do know a little bit about what season 2 will entail. As Jacob explained in our last post about Stranger Things, "Sheriff Hopper is trying to cover up what happened for the good of the kids, the lab is now being run by a seemingly kind character played by Paul Reiser, Winona Ryder's Joyce is now dating an old high school classmate played by Sean Astin, and Dustin will befriend a new pet with supernatural origins." Plus, we'll get to meet two new characters, bad boy Billy (Dacre Montgomery) and his tomboy sister Max (Sadie Sink).
For more on what we'll see in Stranger Things, check out the Super Bowl spot, our frame-by-frame breakdown of same, an intriguing theory about a Ravenloft connection, detailed descriptions of the new characters, our guesses on the season 2 episode titles... you get the drift. We're simply nuts about Stranger Things over here.