Mike Myers To Play Legendary Improv Comedy Coach Del Close In New Movie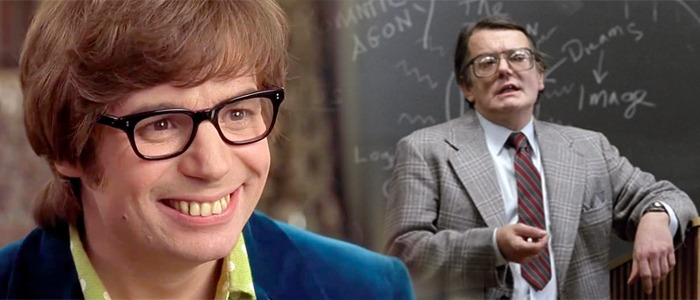 When it comes to inspiration and influence, you'd be hard pressed to find someone mentioned by today's famous comedy talents more than Del Close. You may not know the man by name, but he's been responsible for mentoring some of the biggest names in comedy today, pushing them to see comedy as more than just a way to make people laugh. Mike Myers, John Belushi, Chris Farley, Bill Murray, Tina Fey, Amy Poehler, Gilda Radner, Amy Sedaris, Adam McKay and more all studied under Close before he passed away in 1999.
Even after his death, Close continues to influence up-and-coming comedians as many of his foundations of improv comedy are taught in workshops and classes all over the world. Now the man will be played by one of his most famous students in a new comedy.
Find out more about the Del Close movie after the jump.
The Hollywood Reporter has word of the new movie called Del that is being shopped around the European Film Market at the Berlin Film Festival, and the project has Saturday Night Live and Second City veteran Mike Myers attached to play the improv master himself.
The film will follow Del Close as he takes an aspiring comedian under his wing and develops a relationship that turns from disastrous to life-changing, for both of them. It's not clear if this is inspired by any particular encounter with a student that Close may have had, but like any good improv sketch, this movie will be about more than just what's unfolding in front of our eyes.
Close (seen above in a cameo as a teacher in Ferris Bueller's Day Off) is a comedy genius, and if it weren't for his teachings, we may never have gotten comedy institutions like Saturday Night Live, Second City, Upright Citizens Brigade Theatre, Improv Olympic, and more. Wise words, such as "the only rule is that there are no rules," came from Close. That mentality and his life's work also serves as the basis of the famous Upright Citizens Brigade improv manual put together by founding members Matt Besser, Matt Walsh, and Ian Roberts (which is more than worth checking out if you have more than a passing interest in the art of comedy).
Since there's not an abundance of details on the movie, it's not clear if the movie will feature any of Close's more recognizable students in small roles, but that would be something interesting to be done, with a variety of comedy day players taking those roles. Surely Myers would be able to help round up some great comedy talent for a movie like this.
Betty Thomas (Howard Stern's Private Parts, 28 Days) will be at the helm of the film with untested writer Nick Torokvei behind the script. In addition, Diane Alexander from The Second City will be producing the movie, which likely means this will be as authentic of a portrayal of the improv world as we can see. Other producers include Paul Hanson at Covert Media, Robert Teitel at State Street Pictures and Ron West at Thruline Entertainment. In addition, Andrew Alexander, Covert's Elissa Friedman, Media Content Capital's Sasha Shapiro and Anton Lessine, and Thruline's Chris Henze are all executive producing.
Since this is a project being sold at the European Film Market, there's always the chance that it won't make it in front of the camera. It does seem like the project has the right pieces in place to move forward, but that's never kept other movies from stalling at the starting line. As a comedy nerd, I'm hoping this one can go the distance and ends up on the big screen.