Here's Our First Look At Elle Fanning As 'Mary Shelley'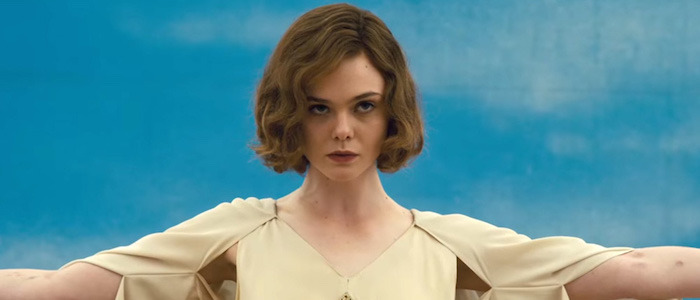 The last time we heard about the movie where Elle Fanning plays Frankenstein author Mary Shelley, it was titled A Storm in the Stars. Now, our first look at the movie has arrived alongside a new title and that new title is... drumroll, please... Mary Shelley. Well, it certainly gets the job done. You can see what Fanning looks like as the famed English writer and novelist below.
The image debuted over at The Hollywood Reporter, who add that the film is being shopped at the Berlin Film Festival, where footage is being screened to potential buyers. While the chief appeal for most audiences will be "Hey, this is about the woman who created one of the most famous horror stories of all time!", cinephiles should note that this is also the new film from Haifaa al-Mansour, Saudi Arabia's first female director, whose feature debut Wadjda earned international acclaim back in 2012.
And here's that new image, which is an appropriate blend of the romantic and gothic: young Mary Shelley, notebook and pencil in hand, leans against the gravestone of her mother, Mary Wollstonecraft, as she looks to the sky for inspiration.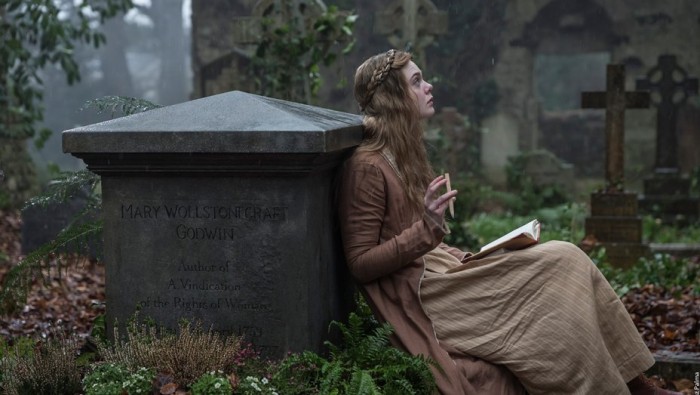 Because Mary Shelley is a film featuring people with British accents, there are two Game of Thrones veterans among the supporting cast: Stephen Dillane plays Mary's father (and famed political philosopher) William Godwin, while Maisie Williams plays Isabel Baxter, a friend who was forced to end their relationship after Mary eloped and found herself pregnant and deep in debt. In addition, Douglas Booth plays Percy Shelley (the English poet Mary would ultimately marry), Bel Powley plays Claire Clairmont (Mary's stepsister), Joanne Froggatt plays Mary Jane Clairmont (Mary's stepmother), and Tom Sturridge plays Lord Byron (the Romantic poet and politician).
All indications suggest that Mary Shelley will focus on the title character's early years, particularly her relationship with Percy Shelley. And that could be great – their lives are full of enough tragedy and suicide and unwanted pregnancy and near-poverty and sudden deaths to fill several movies. Seriously. It's downright soap operatic. Shelley, a genre innovator and a feminist during an era when neither was viewed in a particularly upstanding light, led a fascinating life long before and long after she conceived of a mad scientist re-animating a corpse as part of a "make up your own ghost story" challenge while vacationing with friends and family in Geneva.
If Mary Shelley finds a buyer (and it should), I wouldn't be surprised to see it released later this year.