Wolverine Has A Really Crummy Job In A New 'Logan' Clip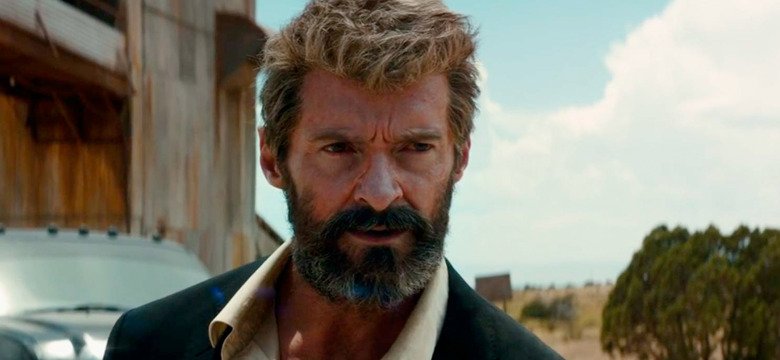 Oh, how the mighty have fallen. Ten years ago, Wolverine was a member of the X-Men, saving the world on a daily basis and slicing through hordes of bad guys as if they were made out of butter. But in the upcoming Logan, it looks like all of that hard work has amounted to a crummy job and a desperate phone call about wanting to buy a used boat for lower than the listed price. This new clip from James Mangold's film really does sell this as being a very different Wolverine movie than we're used to seeing.
The clip, which is shot in grainy black and white, finds Hugh Jackman's aging, formerly indestructible mutant superhero reduced to driving a limousine for a living, looking grump and disheveled behind the wheel while douchebags and rich bozos populate his backseat. The scene features voiceover from Logan himself, making a slightly desperate call to the person who posted a used boat in a Pennysaver ad, hoping they'll take slightly less money if he can offer cash. X-Men aficionados will note that he uses the name James Howlett, which is the name he was born with well over a century before.
Is this really a proper clip from the film? I touched base with someone who has seen the first 40 minutes and they said that this actual scene isn't in the chunk of the movie they watched. It's likely that this clip assembles various shots of Logan going about his miserable existence (which is very much in the film) and adds that sad voice over, offering a strange glimpse into his awful existence. That's one helluva way to market your upcoming superhero movie: a video showcasing just how sad and miserable the main character's life has become.
But I dig it! Logan has sold itself as being a very different kind of X-Men movie, an R-rated standalone adventure far removed from the increasingly convoluted continuity of the main series. I can't help but admire the nerve of a viral video that it built entirely around examining how far a hero has fallen.
Logan his theaters on March 3, 2017. For an example of Logan being his usual tough self, you can always check out the other clip that arrived a few days ago.
In the near future, a weary Logan cares for an ailing Professor X in a hideout on the Mexican border. But Logan's attempts to hide from the world and his legacy are up-ended when a young mutant arrives, being pursued by dark forces.