Alec Baldwin Hosting 'Saturday Night Live' This Weekend Could Be A Big Deal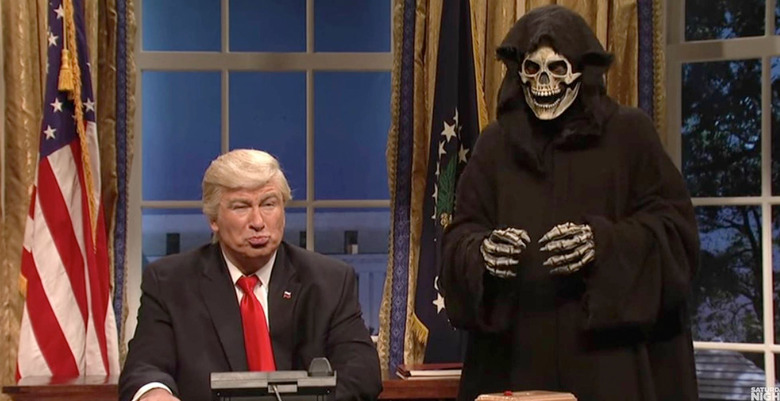 Last weekend, everyone was talking about Saturday Night Live. The latest episode hosted by Kristen Stewart featured a sketch (the best of the night) which brought in Melissa McCarthy to play White House Press Secretary Sean Spicer in a raucously hilarious sketch that pissed off plenty of people in the Trump Administration. And it sounds like this upcoming weekend's new episode will have something special in store as well.
Alec Baldwin has been popping up on Saturday Night Live intermittently to play Donald Trump, the controversial President of the United States, but this weekend he'll also be hosting the show. This will be his 17th time as host of SNL, setting a new record among all of the repeat hosts. A new promo has been making the rounds featuring Alec Baldwin hyping up his appearance, and apparently it's going to be "a big deal."
Alec Baldwin hosting Saturday Night Live is always a treat, simply because the actor is always up for anything and everything. Plus, he fits in perfectly with the cast, has some great impressions of his own, and always gives 100% of himself to each and every sketch. But with all the eyes that have been on SNL due to his impersonation of Donald Trump, having an entire episode with Alec Baldwin at the show's disposal could prove to have even more scathing political satire.
SNL is enjoying a huge boost in ratings due to all the political mockery happening lately. It's all thanks to the ludicrous antics of the Donald Trump presidency and the cavalcade of buffoons he's surrounded himself with, not to mention all the complaining they do about the show. In fact, TV Line reports SNL is enjoying the highest ratings they've had since the show's 20th season when Chris Farley, Adam Sandler, Mike Myers and David Spade were at the top of their game. So at least there's some kind of silver lining to all the garbage happening in Washington DC.
That doesn't mean we're going to get an entire episode of political sketches though, because that's just not SNL's style. Lorne Michaels and the writing staff know how to vary the sketches, and even when they have great inspiration for comedy that's pulling in huge ratings, such as more recent viral phenomenons like Tina Fey as Sarah Palin or Will Ferrell as George W. Bush, there are usually only two or three sketches that take aim at the politics of the time. So you can bet we'll get another appearance from Alec Baldwin as Donald Trump, and I wouldn't be surprised if Melissa McCarthy comes back as Sean Spicer too, but they won't overdo it.
Beyond that, what else could make Alec Baldwin's latest hosting sting a big deal? Well, there has been a lot of buzz about Saturday Night Live really pushing the envelope even more by expanding their roster of stunt casting. Perhaps the most potentially incendiary (and also hilarious) idea being floated around is having Rosie O'Donnell play Donald Trump's chief strategist Steve Bannon. Why? Apparently Sean Spicer and others in the White House (especially Trump) weren't as upset at the content of the SNL sketch featuring Melissa McCarthy last weekend as much as they were that SNL had a woman play him. Therefore, a lot of people are thinking the next big slap in the face would be to have a woman who Donald Trump publicly reviles mock his presidency even more.
As of now there's no word of any real discussions behind the scenes of SNL to bring Rosie O'Donnell in for some kind of stunt casting, but the comedienne has indicated she would get involved if she was called upon. Personally, as funny as it would be, I don't think it's likely. But I hope SNL keeps hitting political satire as hard as they are, if only to make up for the poor decision they made to have Donald Trump host the show not too long ago.
Despite the touting of this upcoming episode being a big deal, there's also a chance that this is just standard hype, and we could end up just getting another usual episode. Considering that Alec Baldwin is setting a record with this hosting gig though, I wouldn't be surprised if there were a bunch of special guests who pop up. We'll have our usual review of the best and worst sketches the day after the episode airs, so hopefully there's something great to write about.
In the meantime, I leave you with one of my favorite, more recent, Alec Baldwin SNL sketches: