LOL: The 'Dog Wick' Trailer Shows John Wick's Dog Is Just As Badass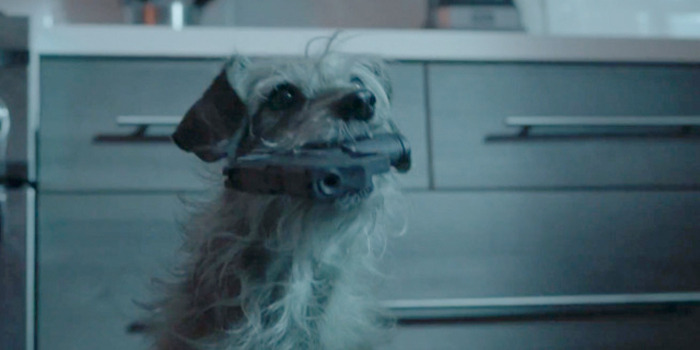 While John Wick is full of brutal gun shots to pretty much every part of the body, the one that that really made audiences sad was that the bad guys killed the title assassin's adorable dog. That was just one of the many reasons that John Wick was thinkin' he's back. But what if instead of John Wick's dog getting killed, it was John Wick himself who was killed, leaving his loyal canine to seek revenge for his master's death.
Find out how deadly John Wick's dog is in the Dog Wick trailer below.
First, we'd like to take the time to acknowledge how dumb this is. But that's also what makes it so fun. It's improbably adorable and violent. It's like Air Bud, if Air Bud was a killing machine instead of a good basketball player. And they even make a reference to the fact that there's no rule against a dog shooting people, just like there's no rule against a dog playing basketball.
The only thing this trailer is missing is a glimpse at the presumed existence of some kind of kennel where a bunch of other assassin dogs go to get specially tailored leashes and doggy treats. I feel like there's so much more to explore in the world of Dog Wick.
Anyway, since we're never going to see a Dog Wick movie, we'll have to settle for the fact that John Wick: Chapter 2 starts playing in theaters around the country in sneak preview screenings tonight before opening everywhere February 10.