'Doctor Strange' Deleted Scene: Stephen Strange Isn't Such A Jerk After All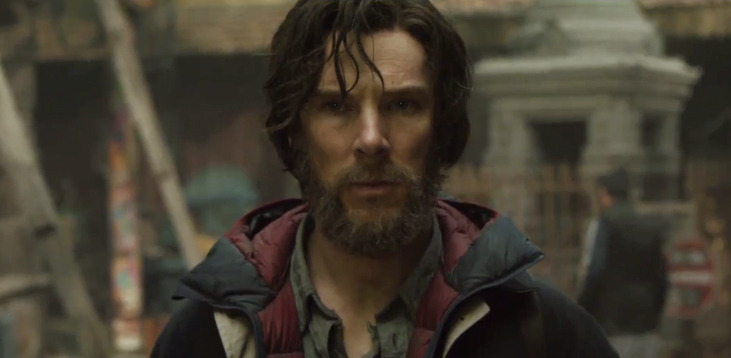 This month you'll be able to bring Doctor Strange into your living room when the film hits Digital HD next week and Blu-Ray and DVD just a couple weeks later. Marvel's latest superhero is just getting started with his own franchise, but we'll see Benedict Cumberbatch in the cape again later this year with a small, key role in Thor: Ragnarok, as well as a pivotal part in The Avengers: Infinity War.
If you can't wait until Doctor Strange can be watched from the comfort of your home, we have a little fix for all of you fans of the mystical arts out there, especially if you like dogs. Marvel has released a Doctor Strange deleted scene that will be included on the home video release of the franchise starter, and it's one that might have made him seem like less of a jerk much earlier in the movie.
Watch the Doctor Strange deleted scene after the jump.
5 words for you: Benedict Cumberbatch helps a dog. Do you need more reasons to watch this exclusive deleted #DoctorStrange scene? pic.twitter.com/w1G13OrYL4

— USA TODAY Life (@usatodaylife) February 8, 2017
One of the more consistent criticisms regarding Doctor Strange was that the title character was too much like Tony Stark, but just a bit more of a jerk, and thus, far less likeable. While I found him to certainly be quite an a**hole, I wasn't annoyed with him to the point that I hated him. For those who found it hard to give him redemption, this scene (via USA Today) might have helped. It shows that Strange can be compassionate and kind, even if he's not always showing those personality traits to people around him. You'd be hard pressed to find someone who would hate a guy after he helped bandage an injured dog.
From Marvel Studios comes "Doctor Strange," the story of world-famous neurosurgeon Dr. Stephen Strange whose life changes forever after a horrific car accident robs him of the use of his hands. When traditional medicine fails him, he is forced to look for healing, and hope, in an unlikely place—a mysterious enclave known as Kamar-Taj. He quickly learns that this is not just a center for healing but also the front line of a battle against unseen dark forces bent on destroying our reality. Before long Strange—armed with newly acquired magical powers—is forced to choose whether to return to his life of fortune and status or leave it all behind to defend the world as the most powerful sorcerer in existence.
Doctor Strange hits Digital HD on February 14 and the Blu-ray and DVD on February 28.