'The Beguiled' Trailer: Sofia Coppola Remakes Don Siegel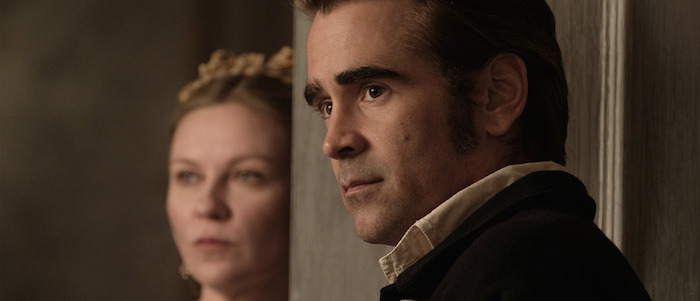 It's hard to imagine two filmmakers more different than Sofia Coppola and Don Siegel, but now the two of them have something in common: they have both made film adaptations of Thomas P. Cullinan's 1966 Southern gothic novel A Painted Devil titled The Beguiled. Siegel's 1971 version was his third collaboration with star Clint Eastwood (Dirty Harry would arrive the same year); Coppola's 2017 version marks her third collaboration with star Kirsten Dunst.
In other words, it's going to be fun to watch these two movies back-to-back and discover how two vastly different storytellers tackle the same material. We can get the ball rolling a little early by watching the trailer for Coppola's remake (or is it re-adaptation?).
Like the '71 version, The Beguiled is set in a Confederate girls' boarding school during the American Civil War, where things are turned upside down by the arrival of a wounded Union soldier, John McBurney (Colin Farrell, taking over for Eastwood). Nicole Kidman plays Martha Farnsworth, the school's headmistress. Kirsten Dunst plays Edwina Dabney, a school teacher. Elle Fanning plays Alicia, a student. All three women develop a relationship with their new guest/hostage, leading to a twisted tangle of big emotions that culminate with everyone turning on one another.
That's an intriguing set-up, made all the more intriguing by the fact that Kidman, Farrell, and Dunst have all been turning in strong performances in strange films as of late. Not being positioned as "movie stars" has made better and more interesting actors of them all.
It looks sexy! It looks fun! It looks just twisted enough! It also looks like a big change of pace for Coppola, a filmmaker whose work has won me over as often as it has completely lost me (Lost in Translation is a masterpiece, Somewhere is...not). Speaking with Entertainment Weekly (who also debuted a series of new pictures from the film), she explained her approach to the film:
I haven't really done a genre film. It was fun to figure out how to approach that but still [keep the film] in my style, and to have this kind of beautiful, dreamy world that I like — but with a plot! [...] The main crux of the story is about the dynamics between a group of women all stuck together, and then also the power shifts between men and women. So for me, it's very universal, but it's in this exotic setting of the Southern gentility.
The Beguiled arrives on June 23, 2017, a date that should allow it to be a tasty little breather from typical summer blockbuster shenanigans.