Star Wars Bits: Mark Hamill Defends Jake Lloyd, New Interviews, And A Possible 'Rogue One' Blu-Ray Release Date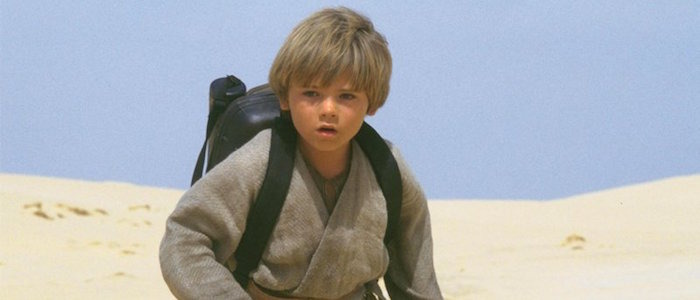 In this edition of Star Wars Bits:
Mark Hamill sticks up for Jake Lloyd and George Lucas.
Rogue One: A Star Wars Story may be hitting Blu-ray and DVD very soon.
Star Wars: The Clone Wars is leaving Netflix.
You can now dress like Jyn Erso for $450.
Marvel's new Darth Maul comic miniseries is very good.
Jimmy Smits and Mads Mikkelsen discuss their time on Rogue One.
One Star Wars legend speaks out as another passes away.
The next Star Wars: Battlefront will have a single player campaign.
Consider this a public service announcement: Star Wars: The Clone Wars is leaving Netflix on March 7, 2017. If you haven't had a chance to watch it (or just want to revisit your favorite episodes again), you have a month to get on that.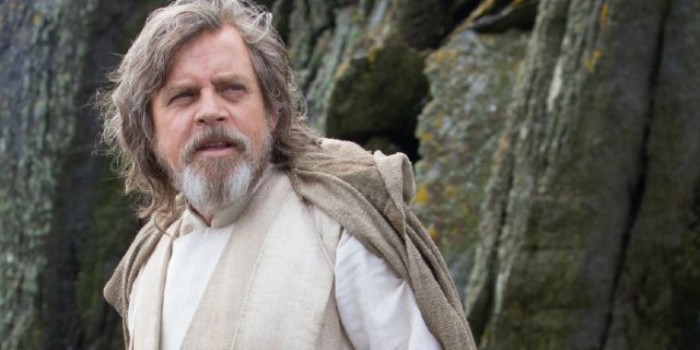 Vulture has a new interview with Mark Hamill where the beloved Star Wars actor stands up for the not-so-beloved Jake Lloyd, the young star of Star Wars: Episode I:
I'm still angry about the way they treated Jake Lloyd. He was only ten years old, that boy, and he did exactly what George wanted him to do. Believe me, I know clunky dialog.
And while he's on the warpath, Hamill goes on to talk about how he was almost in the documentary The People vs. George Lucas, only to realize that they only wanted him to say bad things about the Star Wars creator:
I almost got hornswoggled into that documentary. They weren't calling it The People vs George Lucas at the time. But I could tell from the questions they were asking me that it was an open invitation to trash George. And I have issues with George, but I love that man. I would never...you know I don't talk outside the family. It's just brutal...
Hamill is usually so affable and fun in interviews, so seeing him get passionate and worked up like this is both strange and, somehow, exhilarating.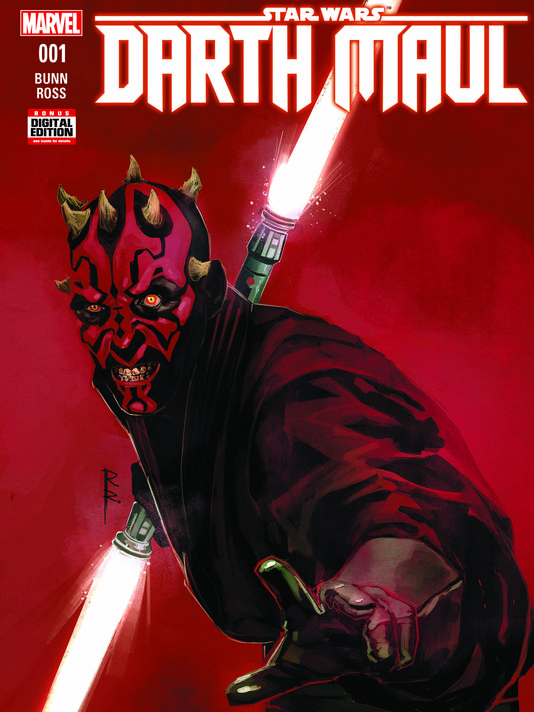 Speaking of Episode I, the first issue of Marvel's Darth Maul miniseries came out last week and it's good stuff. Written by Cullen Bunn and drawn by Luke Ross, the story takes place prior to the events of the first Star Wars prequel and finds Maul going rogue while on a mission for Darth Sidious. Like previous comic miniseries set in this era of the universe universe, the issue is able to coexist alongside the films while also appealing to people (like me) who have no love for the prequel trilogy. And because the new Star Wars canon is all about tying everything together, a certain alien creature introduced in The Force Awakens shows up to remind us that events separated by 60 years still take place in the same universe.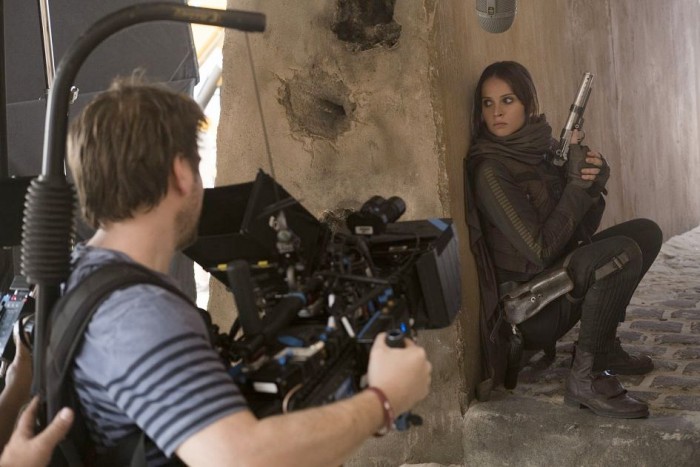 The official release date for the Rogue One Blu-ray and DVD  has yet to be revealed, but a March 28, 2017 arrival is starting to look likely. The evidence is solid enough – check out the official description for the upcoming Rogue One: The Official Mission Debrief book:
As Rogue One: A Star Wars Story is released on DVD worldwide, The Official Mission Debrief presents an all-encompassing guide to the hugely successful movie, with unprecedented access to the making of the film, its stars, its crew and its stunning landscapes. Relive the latest movie in the world's biggest franchise over and over again. A must for any fan of Star Wars.
Since that book is set to be released on March 28 and is apparently tied to the home video release, it may be okay to jump to a conclusion or two.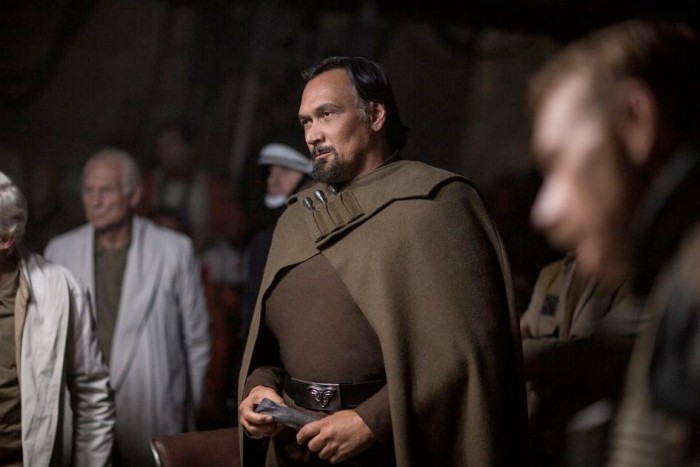 Rotten Tomatoes interviewed Jimmy Smits, which meant they were able to briefly speak with him about his return as Bail Organa in Rogue One. When asked specifically about the scene where he says he trusts a certain someone with his life (you know the one), he responded with this:
That was one of the reasons why I did it, because that little scene there meant a lot to me. I'm so happy that the film has done well, because it meant a lot, I think, to the franchise to do this whole thing that the standalone films would be just as substantive and good as the others, so that they can have a life themselves.
You can read the whole interview, which focuses mostly on 24: Legacy, at the link above.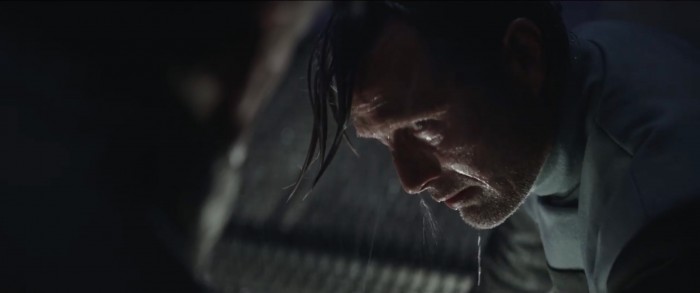 While Rogue One has come and mostly gone (and was mostly really good!), people are still very interested about what went down behind the scenes, especially since we know large pieces of the film were reshot. In an interview with IGN, Mads Mikkelsen revealed that he only had one day of reshoots:
I had one day of reshoots, and that was just basically just a few shots on a big platform when it was raining and I see my daughter again when she's grown up, and that was mostly just technical stuff, and a little story thing just to clarify the story a little bit more. And that's what the reshoots are for, and I think that's quite normal. I had one day and I know other people had more, but you really never get that chance very often, to see the film and go, 'You know guys, we could have a little better or a little clearer.' We never get that chance, and I think it's a beautiful thing that we were able to go back and do that.
He also dwelled on the character of Galen and how it was interesting to play someone who was actually part of the Imperial machine:
You know, the Star Wars films have always been about dealing with the Rebellion, the people that are fighting the Empire. But it's actually very interesting to go and see the people who actually are in the Empire, and I'm one of them. And surprisingly enough, the people of the Empire have families, and wives and daughters that they love. You know, they are the other guys we don't know so much about. And I think it would be interesting to you know, to make a film about the people of the Empire. Who are they, and why? Are they evil? Or do they believe in something greater.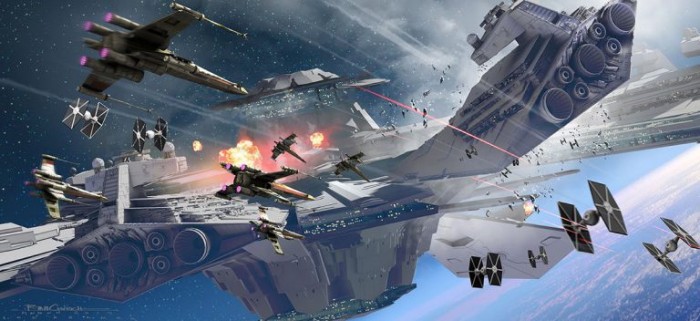 Gosh, a comic book shop in London, recently hosted a Q&A with costume designers and concept designers who worked on Rogue One and Star Wars Hyperdrive walked away with a number of interesting tidbits. You can hit that link for the full list of what they revealed, but I find it especially interesting that they originally designed new crab-like for Scarif, only to decide to not incorporate too many brand new designs into an established world.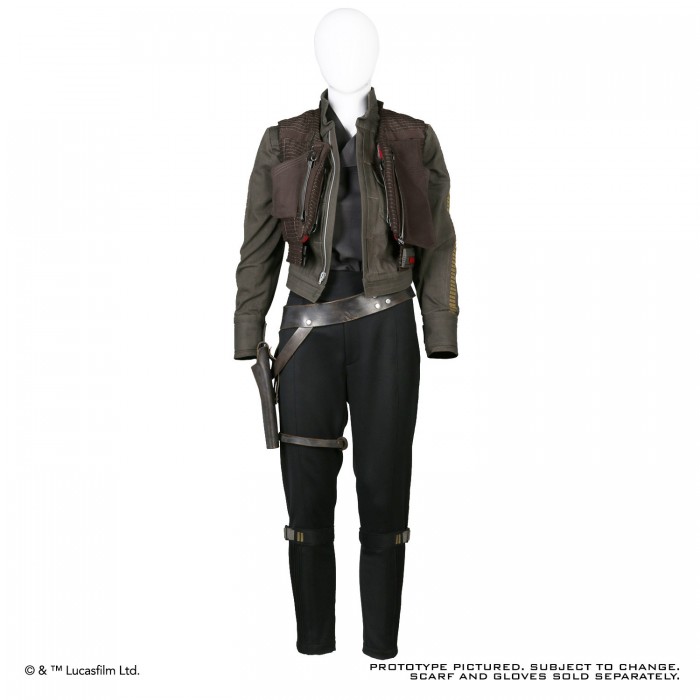 If you have some disposable income and admire Felicity Jones' Star Wars fashion sense, know that Anovos has their new Jyn Erso costume up for pre-order. Sure, it's $450, but if you do seem to be getting a quality product for that price. Here's what you get for that cash:
Jacket – Fully lined, made of poly-cotton drill fabric and features functional breast pockets, interior pockets, rubberized "Bloodstripe" down both outside sleeve seams, and Rebel Alliance rank badge.
Mechanics Vest – Made of silk-satin blend fabric which is fully lined and padded, and features screen accurate hardware and quilting detail.
Trousers – Made of poly-cotton twill and features military style cinch strap above the calf, vertical pintuck pleat details on each shin panel, and hidden side seam pockets.
Workers Tunic – Pull-over style, made of dyed cotton with fully finished inside seams.
Holster Belt – Made of dyed faux leather and features hook and loop closure, thigh strap, and decorative nickel studs.
Other Jyn Erso items, including the scarf, gloves, and Concho to be sold separately.
The Hollywood reporter has posted a brief interview with Ken Ralston, who is the 2017 Visual Effects Society Lifetime Achievement Award honoree. Although it touches on his other work, the interview stars with him explaining the most difficult aspects of working on the original Star Wars trilogy:
When I look back at that time — we were in Van Nuys on the first one in an industrial space — it was such a ragtag situation getting the work out of there. I look back on it with so much fondness. A lot of us were novices. The space battles in Jedi were hard ... to get the flexibility in the camera movement to help tell the story. It was very difficult to put together with separate elements and make it all look as if it was part of the same image.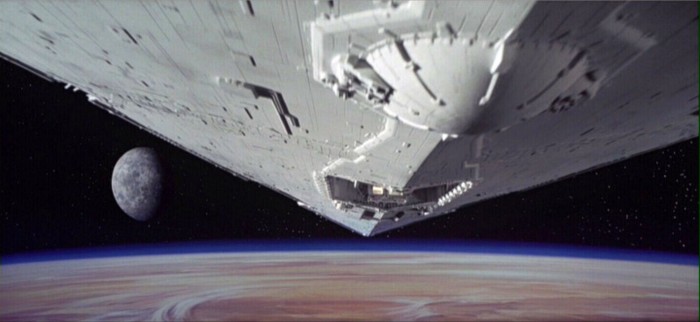 Sound engineer Richard Portman, who was nominated for 11 Academy Awards and whose credits include The Deer Hunter, The Godfather, and the original 1977 Star Wars, has passed away at the age of 82. His daughter posted this wonderful tribute on Facebook:
My father died tonight. 
He was a wildly talented man, whose accomplishments touched millions of people.
He was an icon of his craft of motion picture sound re-recording, recognized with the highest honors of his field. 
He was eccentric, irreverent and real. 
He died in peace, surrounded by family at home, after an enjoyable evening of Lawrence Welk.
He loved like the sunrise. 
Every day is new.
Richard Raleigh Portman was not afraid.
Live the day at hand,
Brave and fearless.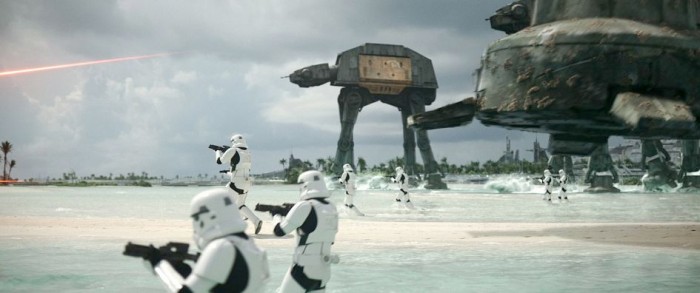 American Cinematographer has posted an in-depth two-part interview with Rogue One story creator, executive producer, and visual effects supervisor John Knoll that takes a deep dive into the film's VFX. Here he is explaining how he collaborated with director of photography Greig Fraser to ensure a smooth post-production process:
Something I try to do on all shows is to talk through some of the things that are often challenging on visual-effects productions so they don't get planned wrong. For example, when you have a set fragment and a lot of bluescreen or greenscreen, two things tend to happen: Often camera operators don't know how to frame the shot properly because they're only seeing a piece of the image, and often cinematographers only light what's in front of them because that's what they've been trained to do — they're not necessarily lighting for what the final image is going to be. A classic problem is an interior where there's a window to daylight exterior, and instead of actually having that daylight exterior out there, there's just a bluescreen. Those are always extremely difficult exposure splits because you want the exterior to look like it's brighter but you still want to read actors' faces in the foreground. Trying to find that balance is often really difficult if you can't see the actual exterior out there. I've been trapped on a couple of shows with way-overexposed sunlight hitting windowsills; if I put the background out there at that brightness, it's going to be completely blown out, and that's not what anybody wants, so now the ratios are completely wrong.
The whole interview can be read at the link above and it's really worthy of your time.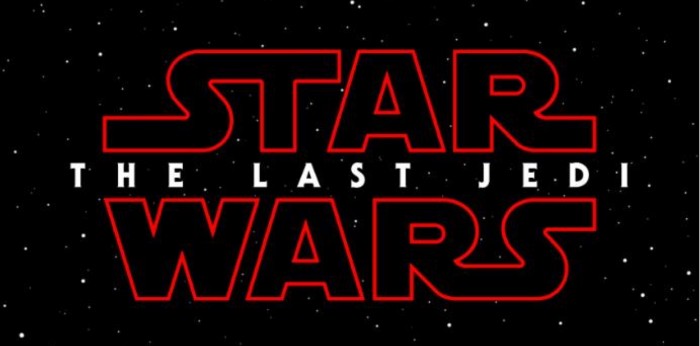 In a recent conference call, Disney CEO Bob Iger said that he might stay at the company beyond July 2018, when he was originally expected to leave the job. Bleeding Cool notes that he said this shortly after noting that he's seen an early cut of Star Wars: The Last Jedi, so take from that what you will. I could mean absolutely nothing, but it could mean that he plans to stick around to see Colin Trevorrow's Star Wars: Episode 9 all the way through.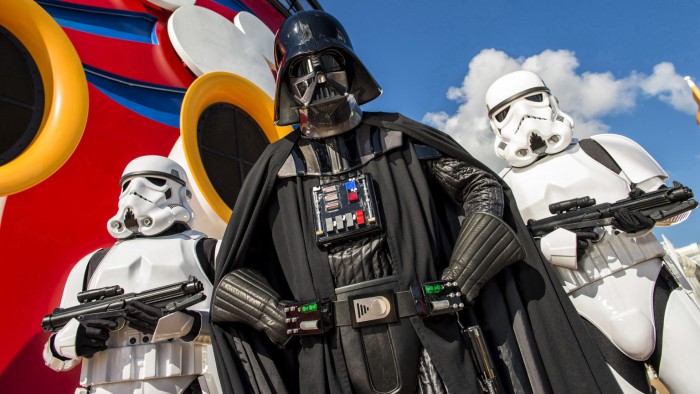 Speaking of Disney, Oh My Disney has a big article about everything you need to know about Star Wars Day at Sea, the new special event on board the cruise liner Disney Fantasy.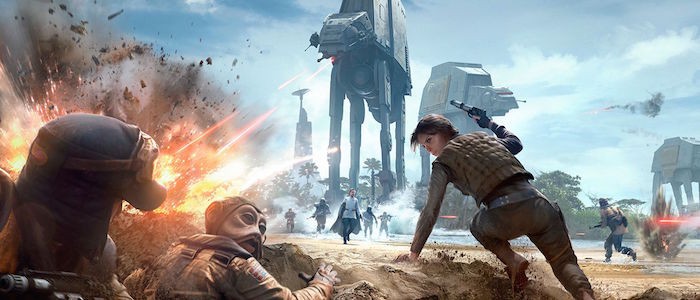 As expected, a sequel to Star Wars: Battlefront will arrive later this year, probably a month or so before the release of Star Wars: The Last Jedi. Also as expected, it will feature a single player campaign, directly addressing the chief complaint lodged against the (otherwise very fun) original game. Here's Electronic Arts' full statement:
We're thrilled to bring a new Star Wars Battlefront game to fans worldwide in the 2017 holiday season. In the past two years, Rogue One and The Force Awakens have opened new storylines and captured the imagination of hundreds of millions of Star Wars fans. We've listened closely to our passionate Star Wars Battlefront community, and expanded our existing game with more great content and experiences since its launch. As that game continues to thrive, we have also heard our players' desire for even more depth and progression. Our next Star Wars Battlefront will be even bigger, taking players into more locations, and allowing them to play with more heroes and characters across multiple Star Wars eras. There will be new ways to play, including an all-new single-player campaign, and much, much more that we are excited to share with our players in the months ahead. To build a game of this magnitude, we've brought together three great studios – DICE, Motive, and Criterion – and aligned their areas of expertise to deliver an amazing experience in the next Star Wars Battlefront.

Speaking of Star Wars merchandise, new rumors suggest that the latest iteration of Force Friday will arrive on September 1, 2017. If accurate, that means we'll probably start paying far too much attention to toy packages on that date, hoping to learn more about The Last Jedi. Remember when the first Force Friday revealed a toy that featured the first voice samples from Kylo Ren? Good times. Weird times.
Author Timothy Zahn, the writer of Heir to the Empire and the upcoming Thrawn, has confirmed on Facebook that he'll be attending Star Wars Celebration this April (and will be signing books).
The latest episode of The Star Wars Show asks a very important question: why are there no handrails in Star Wars?