'It Comes At Night' Trailer: The Director Of 'Krisha' Has Made A Horror Movie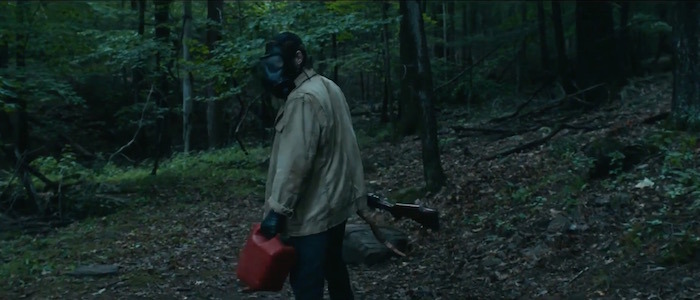 It's easy to roll your eyes at movie trailers, to scoff at how people are sometimes more obsessed with film marketing than films themselves. On some days, I agree. On other days, the It Comes at Night trailer arrives and reminds me that there's a genuine art to cutting a great movie trailer and that the best of the bunch can evoke a film's atmosphere without falling into the trap of summarizing the entire movie in two minutes.
And the arrival of the It Comes at Night trailer serves as a reminder that Trey Edward Shults, the director of the critically acclaimed Krisha, has gone and made a horror movie starring Joel Edgerton for his sophomore feature and that is very, very interesting.
As is often the case with trailers for films released by A24, this trailer is less about telling you what It Comes at Night is actually about and more about selling a creepy, unsettling mood, punctuated by disconcerting imagery and dialogue that suggests something really bad is going on.
If you think that the official synopsis will offer a more concrete explanation concerning what's going on here, you'll need to look elsewhere. The plot description is as vague as the trailer, which somehow makes it all the spookier:
A man (Joel Edgerton) learns that the evil stalking his family home may be only a prelude to horrors that come from within.
Secure within a desolate home as an unnatural threat terrorizes the world, the tenuous domestic order he has established with his wife and son is put to the ultimate test with the arrival of a desperate young family seeking refuge.
Despite the best intentions of both families, paranoia and mistrust boil over as the horrors outside creep ever-closer, awakening something hidden and monstrous within him as he learns that the protection of his family comes at the cost of his soul.
Shults broke on to the scene with 2015's domestic drama Krisha, a micr0-budget feature about a Thanksgiving drama gone horribly wrong starring mostly members of his own family. The surprise success of that film led to him establishing a relationship with A24, which led to the existence of It Comes at Night. I'm very curious to see how Shults operates within a different genre, especially now that he was recognizable faces in front of the camera and a larger budget behind it.
It Comes at Night arrives on August 25, 2017. You can check out the first poster (which is so simple and yet so disconcerting) below.