'Aftermath' Trailer: Arnold Schwarzenegger Demands An Apology In The Darren Aronofsky-Produced Thriller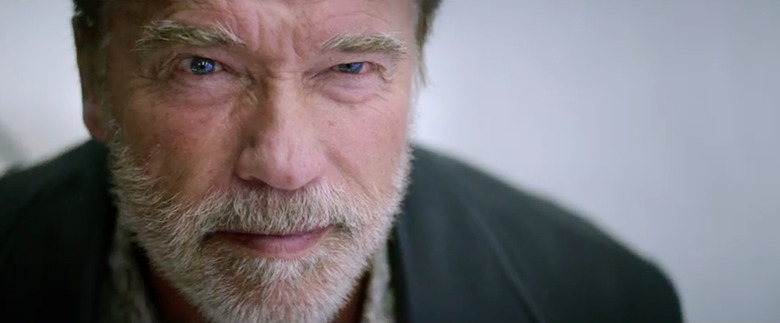 Arnold Schwarzenegger has been doing some good work these past few years not enough people are seeing. The projects he's been in – Escape Plan, Maggie, and The Last Stand – have problems, but he's rarely one of them. He gives one of his most natural performances to date in Maggie, but the movie, like some of Schwarzenegger's other recent projects, was overlooked. Let's hope that won't be the case for his new Darren Aronofsky-produced drama/thriller, Aftermath.
Below, watch the Aftermath trailer.
Originally titled 478, Elliott Lester's (Blitz) movie stars Schwarzenegger as Roman, a man whose wife and child are killed in a plane crash caused by an air traffic controller (Scoot McNairy). McNairy's character, Paul, is so vilified by the public him and his family have to go into protective custody. Roman finds little comfort in the money offered to him by the airline's lawyers. Money doesn't even begin to help him. What Schwarzenegger's character wants is an apology, but because he never hears one, he goes on a vengeful journey to get one. The drama/thriller, which Javier Gullón (Enemy) wrote, co-stars Maggie Grace (Lockout), Martin Donovan (Inherent Vice), Kevin Zegers (Transamerica), and Glenn Morshower (Bloodline).
Here's the Aftermath trailer:
Like Maggie, Aftermath may focus more on the former governor of California's vulnerable side. When the project was first announced, it was easy to imagine The Terminator and Predator star in a bloody revenge tale, but based on the trailer, this isn't that kind of movie. The host of the Apprentice reboot looks in fine form, as he tends to. There's something inherently compelling about seeing Schwarzenegger, who's played many characters famous for saving the day, in an emotional and vulnerable state.
The film is inspired by a true story. A Russain man by the name of Vitaly Kaloyev's family died in a plane crash caused by an air traffic controller. Kaloyev, too, was unsettled by the lack of remorse from the airline and the traffic controller. If you want to know what happened to the air traffic controller in that story, you can find out for yourself. There are some obvious differences between Kalovey's story and the one Aftermath is telling, though, so perhaps the film has a different resolution.
Here's the synopsis:
Two strangers' lives become inextricably bound together after a devastating plane crash. Inspired by actual events, AFTERMATH tells a story of guilt and revenge after an air traffic controller's (Scoot McNairy) error causes the death of a construction foreman's (Arnold Schwarzenegger) wife and daughter.
Aftermath opens in theaters April 7th. It'll also be made available on On Demand.