'Logan' Clip: Wolverine Counts To Three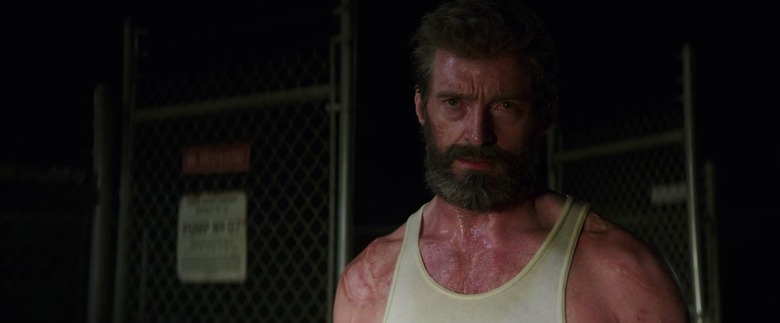 With less than a month to go until the release date, 20th Century Fox's Logan marketing campaign is in full swing. Just hours after the studio dropped a big, bloody Super Bowl spot for the X-Men spinoff, they've also unleashed the first Logan clip. In it, Logan (Hugh Jackman) and a buddy (Eriq La Salle) get into a confrontation with some "Okie dickheads" (Logan's words, not mine) over their right to be on a particular piece of property. Click through to watch the first Logan clip.
Logan Clip
It's not very clear what's happening in this Logan clip. Who's Logan's buddy? What's this piece of property? Who are those other guys? And what do they all want? But it does serve as a nice reminder that Logan's still got it, even in his old age. He exudes menace and manages to scare off the other guys without firing a single shot. If he's in pain — and the Logan script suggests he's basically always in pain — he's not showing it.
I'm guessing this scene takes place midway through the film. It seems too quiet and slow to be from the third-act showdown, but it also wasn't included in the first 30-40 minutes of footage we saw in December. In fact, La Salle's character didn't appear at all in that first act. It seems Logan's still got a few secrets and surprises up its sleeve, even if it feels like we've seen a good amount of this movie already.
Directed by James Mangold, Logan is in theaters March 3. Also starring are Patrick Stewart, Dafne Keen, Boyd Holbrook, Stephen Merchant, and Richard E. Grant.
In the near future, a weary Logan cares for an ailing Professor X in a hide out on the Mexican border. But Logan's attempts to hide from the world and his legacy are up-ended when a young mutant arrives, being pursued by dark forces.