'John Wick: Chapter 2' Super Bowl Spot Tries To Trick 'Fifty Shades Of Grey' Fans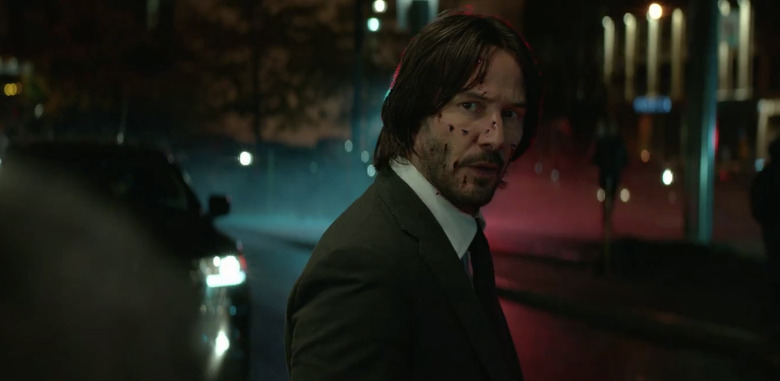 While the Super Bowl may be mostly geared toward a male audience, that doesn't mean there aren't plenty of women watching the big game today. Some might even be expecting a special glimpse at Fifty Shades Darker since the erotic, romantic thriller sequel arrives this week. And Lionsgate took full advantage of that with their latest tease for something that's much different.
John Wick: Chapter 2 debuted a Super Bowl spot during the pre-game coverage today, and it starts off with a tease that feels like it could be introducing a Fifty Shades Darker spot. But then it quickly takes a turn with plenty of gunfire and some hard-hitting action, making it look like John Wick is taking just as much of a beating (albeit a completely different kind) as Dakota Johnson did from Christian Grey.
Watch the John Wick 2 Super Bowl spot below.
Even though the embargo on reviews hasn't been lifted yet, don't let that worry you. The buzz from those who have seen the sequel is more than good. In fact, there are some who have told me that they think the sequel is actually better than the first movie. That sounds like a tall order, but I'm certainly not going to be disappointed if the original John Wick gets shown up by his second outing.
This Super Bowl spot shows Keanu Reeves is in for a rough night, dodging plenty of bullets, but not faring so well in avoiding car collisions. The action seems like it will be amped up considerably, and since it was already top notch in the first movie, that's pretty impressive.
John Wick: Chapter 2 is bringing back some familiar faces from the original movie, including  John Leguizamo, Lance Reddick and Ian McShane. But there are also new faces on the scene as well, such as Laurence Fishburne, Ruby Rose, Riccardo Scamarcio, Peter Serafinowicz and Common.
Chad Stahelski directs John Wick: Chapter 2 and it arrives in theaters this week on February 10.
In this next chapter following the 2014 hit, legendary hitman John Wick (Keanu Reeves) is forced back out of retirement by a former associate plotting to seize control of a shadowy international assassins' guild. Bound by a blood oath to help him, John travels to Rome where he squares off against some of the world's deadliest killers.