'Pirates Of The Caribbean: Dead Men Tell No Tales' Super Bowl Spot: Jack Sparrow Is Back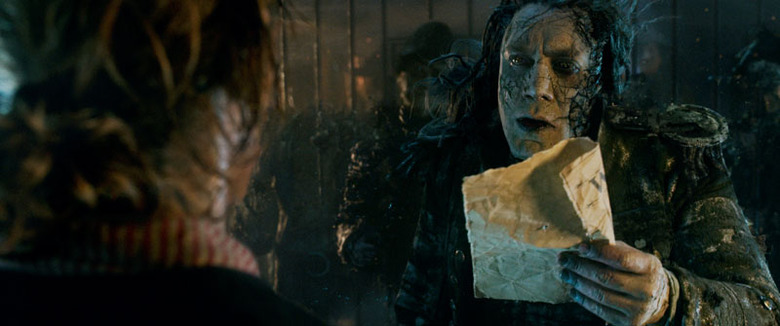 We last saw Jack Sparrow (Johnny Depp) almost six years ago in Pirates of the Caribbean: On Stranger Tides, a fairly bloated, lifeless and forgettable sequel. At the time, though, audiences welcomed the return of Jack Sparrow. The sequel made over a billion dollars worldwide, making Depp's last legit hit. Now, almost 14 years after first playing the character, the actor is back as the shifty pirate.
Below, watch the Pirates of the Caribbean: Dead Men Tell No Tales Super Bowl spot.
Sparrow wasn't present in the first trailer for Dead Man Tell No Tales, which Espen Sandberg & Joachim Rønning (the duo behind Kon-Tiki) directed. The trailer instead introduced Javier Bardem (Skyfall) as Captain Salazar, a dead pirate on the hunt for his old enemy, Sparrow. After Salazar and his ghost pirate crew escape the Devil's Triangle, their plan is to kill every living pirate out at sea. Sparrow knows how to kill a dead man, and this time, he might do it with the assistance of the Trident of Poseidon, which gives him the power to control the seas.
Pirates of the Caribbean: Dead Men Tell No Tales Super Bowl Spot
The last Pirates of the Caribbean movie and Depp's recent track record doesn't help raise expectations for this sequel. The character was predictable and stale in Rob Marshall's sequel, but perhaps a new, fresh vision from Sandberg and Rønnin could help revitalize him. It'd be a pleasant surprise if the Keith Richards-inspired pirate is up to some new tricks, not his old ones, in Dead Men Tell No Tales.
In the sequel, Orlando Bloom is back as Will Turner, and so are Geoffrey Rush as Barbossa, Kevin R. McNally as Joshamee Gibbs and Stephen Graham as Scrum. The film also co-stars Kaya Scodelario (The Maze Runner), Brenton Thwaites (Gods of Egypt) and Golshifteh Farahani (Exodus: Gods and Kings).
Here's the official synopsis:
Thrust into an all-new adventure, a down-on-his-luck Captain Jack Sparrow finds the winds of ill-fortune blowing even more strongly when deadly ghost pirates led by his old nemesis, the terrifying Captain Salazar (Bardem), escape from the Devil's Triangle, determined to kill every pirate at sea...including him. Captain Jack's only hope of survival lies in seeking out the legendary Trident of Poseidon, a powerful artifact that bestows upon its possessor total control over the seas
Pirates of the Caribbean: Dead Men Tell No Tales opens in theaters on May 26th.