'The LEGO Batman Movie' Review Early Buzz: Everything Is Still Mostly Awesome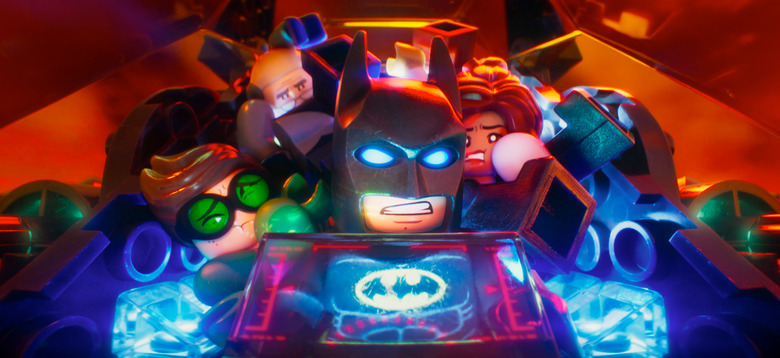 In just a few days, we'll get to see if The LEGO Batman Movie lives up to the hype and continues the inspired style and imagination of The LEGO Movie that introduced us to this brilliant version of Batman voiced by Will Arnett. This past weekend the first press screenings rolled out, and the reviews were available online later in the day.
The LEGO Batman Movie reviews are overwhelmingly positive, though some point out that it's not quite on par with The LEGO Movie. One of the more common claims though is that this is one of the best Batman movies ever made, including some talk about how its creators understand Batman infinitely better as a character than those driving the DC Expanded Universe.
Check out The LEGO Batman Movie early buzz after the jump.
Here was our own Peter Sciretta's reaction to The LEGO Batman Movie after he saw it:
The Lego Batman movie is alot of fun & surprisingly emotional, but doesn't quite live up to the level of hilarity set by The Lego Movie.

— /Film (@slashfilm) February 5, 2017
Susana Polo at Polygon praises how complex a movie aimed at kids makes the character of Batman:
The Lego Batman Movie is not to be underestimated. I expected it to answer its questions quickly and get on with things, but the third act is satisfyingly complicated. It doesn't take the idea that Batman is a jerk as a necessary quality of the setting, and keeps pushing until it earns its accomplishments. Batman is bad at team work, and he fails at it over and over again, but The Lego Batman Movie makes sure we know exactly why he's failing, the lessons he keeps missing and the trauma and justified fear that ultimately drive his isolation.
The Lego Batman Movie is that rare bird of big-screen Batman film: A Batman movie that is actually narratively about Batman, and not a featured villain.
It also has a big dance number over the end credits.
Take your kids to see it. Take your friends. Take a Warner Bros. executive, and maybe they'll finally realize what they're doing wrong with the DC Expanded Universe.
Owen Gleiberman at Variety had more praise for the approach the film takes to Batman:
The first thing to say about "The Lego Batman Movie" is that it's kicky, bedazzling, and super-fun. The second thing to say about it is that, like "The Lego Movie" (2014), it's a kiddie flick that's been made in a sophisticated spirit of lightning-fast, brain-bursting paradox.
"The Lego Batman Movie" comes on like a kid-friendly sendup of the adult world, yet there's a dizzying depth to its satirical observations that grows right out of the spectacularly fake settings, which are hypnotic to look at but have the effect of putting postmodern quotation marks around...everything.
"The Lego Batman Movie" uses the towering plasticity of Lego to tweak a superhero culture (namely, ours) that pretends to be about nobility but is really about the vain delusion of full-time fantasy. Your average Pixar comedy thumbs its nose at a great many things, but "The Lego Batman Movie" is a helter-skelter lampoon in the daftly exhilarating spirit of Mad magazine and the "Naked Gun" films. It's that quick and cutthroat clever and self-knowing.
Steve Rose at The Guardian calls this movie Deadpool for juniors and also says:
This gag-packed, knockabout action-adventure has a lot of fun with the character, while also broaching his pathologies in a way the "serious movies" rarely do. It doesn't have the heart, the depth or the novelty of the first Lego movie, but it is relentlessly, consistently funny – which excuses everything.

Robbie Collin at The Telegraph compares it to the DC Expanded Universe version of Batman:
Followers of the current batch of live-action DC Comics films may not be stunned to hear it's immeasurably more stylish, spectacular, deftly written, thematically rich, visually ravishing and generally delightful than anything yet to feature the latest, Affleck-essayed incarnation of Actual Batman.
Oh, and it's funny too. Frantically and relentlessly so, in that way you can feel your brain lurch and grab at punchlines as they whistle past your head. While it never achieves, or even reaches for, The Lego Movie's unexpected profundity and emotional bite, in purely logistical terms, The Lego Batman Movie is a thing of wonder. There are around four (great) films' worth of action and jokes here, crammed into a story so streamlined it might have been assembled in the Lockheed wind tunnel.
Mike Ryan at Uproxx points out The LEGO Batman Movie isn't necessarily on par with The LEGO Movie, but doesn't think that's a bad thing:
The LEGO Batman Movie isn't the same experience as watching The LEGO Movie, but I also don't think its trying to be. It's trying to be a fun superhero movie with clever callbacks to previous Batman films (every single Batman movie all the way back to the 1940s serials are referenced) that can, at least, provide DC superhero fans with a taste of fun amidst all the doom and gloom. (That can either be a reference to "the real world" or the current DC Cinematic Universe films, you can choose either one you want or both.) And at that, The LEGO Batman Movie succeeds.
David Ehrlich at IndieWire is pretty high on the movie as well, as he writes:
"The LEGO Batman Movie" is this year's only worthwhile story about a manic, self-obsessed, profoundly unloved cartoon billionaire who lives in an isolated fortress of his own design, resents the people that he's entrusted to protect, and receives money from (executive producer) Steve Mnuchin. It is also arguably the most enjoyable Batman movie ever made, and certainly the funniest.
Neither of those are particularly high bars to clear, but Chris Mckay's exuberant — and exhausting — new film is nevertheless a worthy spin-off of 2014's "The LEGO Movie," grafting a warm-hearted parody of the Caped Crusader onto an animated franchise that's as malleable as the plastic bricks for which it's named.
Alonso Duralde at The Wrap thinks The LEGO Batman Movie could bridge the gap between some Marvel and DC fans:
Movie superhero fans tend to be divided into camps, with Marvel people complaining about the dank glumness of the DC films, and DC partisans decrying the jokiness of Marvel movies. Committed to lunacy while paying homage to the varied legacy of Batman over the decades, "The Lego Batman Movie" might be the common ground that satisfies both camps.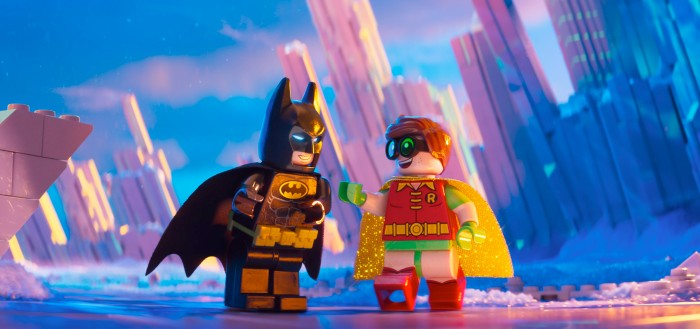 Daniel Krupa over at IGN has plenty of praise as well:
The usually dark world of Batman is reimagined with insane energy and vibrancy. The quality of animation ensures each one of its blocky characters bursts with life and emotion. I particularly love how McKay and his writers have – very much in the spirit of LEGO – mixed-and-matched elements from other Batman stories and adaptations. Danny DeVito's Penguin colludes with Tom Hardy's Bane, while Arnett's Batman quotes Michael Keaton one minute and tips his cowl to Adam West the next. Where else can you see that? It's a frenetic and joyously unhinged celebration of all things Batman. But it's so much more than a parody. Beneath its eccentric surface, The LEGO Batman Movie finds a new way to approach these familiar characters. Yes, it's a great comedy, but it's a great Batman movie, too.
Not all the reviews are full of praise though, as Michael Rechtshaffen at The Hollywood Reporter wrote:
Watching The Lego Batman Movie, the follow-up to the wildly entertaining The Lego Movie, is sort of like re-assembling the Lego Star Wars Ultimate Collector's 5,197-piece Millennium Falcon: The achievement just doesn't convey the sort of triumphant, giddy satisfaction that it did the first time.
Maybe it also has something to do with the fact that Will Arnett's hilariously egotistical Caped Crusader has been promoted from mightily effective scene-stealer to the role of all Batman, all the time — which can prove to be too much of a good thing.
Whatever the reasons, although there is still much to enjoy here, this DC Comics-fueled Lego adventure fails to clear the creative bar so energetically raised by co-directors and writers Phil Lord and Christopher Miller back in 2014. Not that it will face any hurdles at the box office, with an all-ages-appropriate PG rating that should give the Warner Bros. release a solid run at the original's $469-million worldwide haul.
Oliver Lyttelton at The Playlist also wasn't as impressed as others:
While there's some fun to be had, it can't help but feel like a missed opportunity.
It's less a superhero parody than a plain old superhero movie for probably two-thirds of its running time, becoming increasingly conventional and rather less funny as it goes on. For instance, some might try and explain away the film's reliance, yet-fucking-again, on a portal in the sky for its third-act climax as a joke at the trope in the genre, but for it to be a parody it would have to in some way use it for the purpose of a joke, which it really doesn't do.
"The Lego Batman Movie" is still roughly four hundred million times more enjoyable than "Batman v Superman: Dawn Of Justice," and hardcore Bat-fans will probably find it an absolute joy. But those of us who were hoping for the film to be something of an antidote to superhero formula will unfortunately find it adhering much too closely to the playbook.
***
For the most part, it sounds like The LEGO Batman Movie delivers on what many were hoping for. But beyond that, it seems to separate itself enough from The LEGO Movie to be something different, mostly thanks to how it approaches Batman and the little corner of the LEGO universe that he lives in. Though it's clearly a parody, the movie appears to have the reverence for Batman that fans demand, including references to the entire mythology of the character on the big screen.
Though the movie appears to have some shortcomings when compared to its building block predecessor, including several references to a soundtrack that doesn't quite measure up in a few reviews, The LEGO Batman Movie should be a wholly enjoyable experience for kids and adults alike.
The LEGO Batman Movie hits theaters on February 10.