'The Blackcoat's Daughter' Trailer: Starring The Girl From 'Mad Men,' The Girl From 'Sing Street,' And The Devil, Probably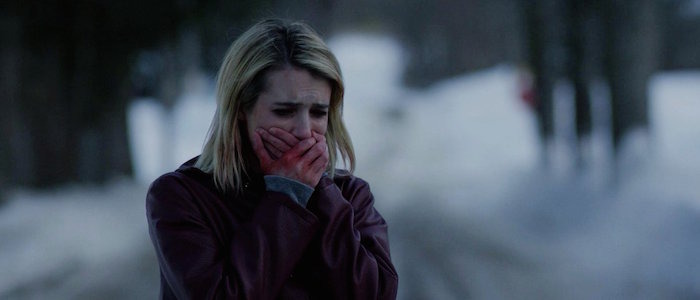 I've been looking forward to seeing The Blackcoat's Daughter ever since I missed it during Fantastic Fest 2015, back when it was still going by its original title, February. Oz Perkins' directorial debut inspired a great deal of conversation throughout the festival, with audiences split over whether or not it was a gem or...let's just say "not a gem." Any film that can stir up that divide people and get them talking is a must-see.
After a lengthy delay, the film is set to arrive soon and an atmospheric new trailer has shown up.
The trailer is light on plot but heavy on mood, with Mad Men's Kiernan Shipka and Sing Street's Lucy Boynton playing girls who are left alone at their prep school over winter break when their parents never show up. And then awful things start to happen, things involving evil forces and "brutal bloody violence," as the MPAA warning promises us. Emma Roberts is also on hand, playing a character heading toward the school for reasons unknown.
Here's The Blackcoat's Daughter trailer:
It's an extremely effective trailer, reminding me very much of last year's incredible The Witch (and if it's half as good, we're in for something cool). For a taste of what to expect, Perkins' second film, I Am the Pretty Thing That Lives in the House, is currently streaming on Netflix.
The Blackcoat's Daughter will premiere exclusively on DirecTV on February 16 before A24 releases it in theaters on March 31. Here's the official synopsis:
A deeply atmospheric and terrifying new horror film, THE BLACKCOAT'S DAUGHTER centers on Kat (Kiernan Shipka) and Rose (Lucy Boynton), two girls who are left alone at their prep school Bramford over winter break when their parents mysteriously fail to pick them up.  While the girls experience increasingly strange and creepy occurrences at the isolated school, we cross cut to another story—that of Joan (Emma Roberts), a troubled young woman on the road, who, for unknown reasons, is determined to get to Bramford as fast as she can. As Joan gets closer to the school, Kat becomes plagued by progressively intense and horrifying visions, with Rose doing her best to help her new friend as she slips further and further into the grasp of an unseen evil force.  The movie suspensefully builds to the moment when the two stories will finally intersect, setting the stage for a shocking and unforgettable climax.