LOL: 'City Slickers' Meets 'Westworld' In Funny Or Die's Brilliant Crossover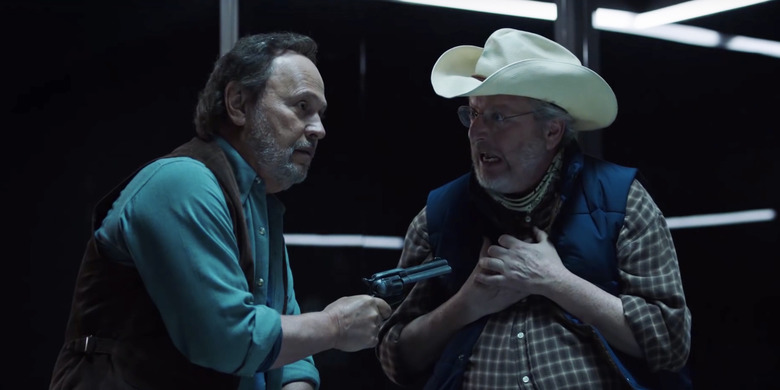 In the years since Westworld has been operational, so many narratives have come and gone. One of the more popular storylines from years past was that of City Slickers, inspired by the story of a group of friends who just want to relax on the frontier, rope some cattle, and sleep under the stars for a night away from the stress of the city.
Though the City Slickers narrative has been retired for some time, hosts Mitch (Billy Crystal) and Phil (Daniel Stern) have been left to their own devices, annoying the hell out of each other in the desert. But more recently, they've started to go off their loop, so they've been brought in for some routine maintenance by Stubbs (Luke Hemsworth) to see what the problem is.
This Westworld City Slickers crossover is something that I didn't know I wanted to see, but I'm so glad that someone took the time to make it. Watch below!
Billy Crystal's comedic style is such a great contrast to the tone of Westworld. It's so perfectly executed that it feels like it's a parody from an alternate timeline where Billy Crystal hosted the Emmys this year. Daniel Stern is also great reprising his role as Phil, and he even tosses in a Home Alone 2: Lost in New York reference in there for good measure.
These are the kind of one-off crossovers I love to see executed, and it just makes me wish there was a way to make the City Slickers narrative an actual part of Westworld. There has to be some nostalgic City Slickers fans who visit the park who just want to head out and uncover the legend of Curly's gold, right?
If Funny or Die was smart, they'd turn this into an ongoing series of videos, because I'd love to see Jon Lovitz brought in for another sketch like this and see how he reacts to all the behind-the-scenes activities at Delos. At the very least, it would be a nice distraction while we wait for the second season of Westworld to come to HBO.
Honestly, I'm surprised that City Slickers 3 isn't something that's been discussed. Then again, maybe it has and the idea was just shot down. But if any of you are hoping to see that happen, this is probably the closest we'll get, and I'm fine with that.
Also, if you want to go behind the scenes of this great parody, here you go: