The 'Kong: Skull Island' Monsters Were Inspired By 'Princess Mononoke'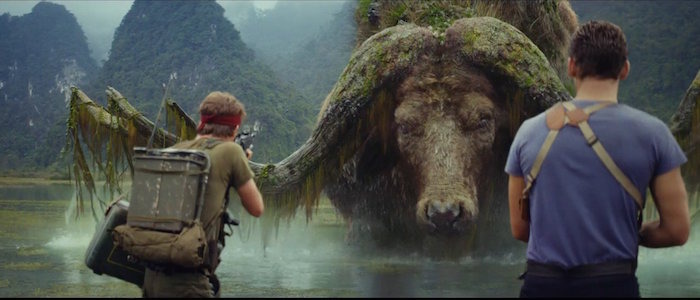 The trailers for Kong: Skull Island feel like some kind of bizarre fever dream given a blockbuster budget and I mean that in the nicest way imaginable. I'm not entirely sure what director Jordan Vogt-Roberts is cooking up with this one, but I sure like the look of the menu: Tom Hiddleston and Samuel L. Jackson battling giant monsters on King Kong's island home in the '70s with a disheveled John C. Reilly on hand to provide exposition while the posters deliberately borrow imagery from Apocalypse Now? Holy cow. Sign me up.
So yeah, it makes perfect sense that Hayao Miyazaki's Princess Mononoke was also a touchstone for the production. At this point, I wouldn't be surprised if Skull Island itself is shaped like a kitchen sink.
This new tidbit comes our way via an interview with Vogt-Roberts over at JoBlo, where the Kings of Summer director explained that it was important for each of the Kong Skull Island monsters to radiate both horror and awe:
The creatures are a big thing. Jurassic World obviously owns the dinosaur thing right now. If Kong is the God of this island, we wanted each of the creatures to feel like they're individual gods of their own domain. Miyazaki and Princess Mononoke was actually a big reference in the way that the spirit creatures sort of have their own domains and fit within that. A big thing was trying to design creatures that felt realistic and could exist in an ecosystem that feels sort of wild and out there, and then also design things that simultaneously felt beautiful and horrifying at the same time. Where if you look at this giant spider or water buffalo, you stare at, a part of you says, 'that's the most amazing thing I've ever seen' and 'oh my god, that's going to kill me right now, I need to run for my life!
This has always been one of my favorite elements of Miyazaki's work – he recognizes the beauty of the worlds he creates while never forgetting that nature (whether it be real or fictitious) is harsh, unforgiving, and often indifferent to your mere human feelings. For every Totoro, there's a number of less fluffy and far less less friendly creatures waiting to chomp your bones. Princess Mononoke, which was released in 1997 and is a full-stop masterpiece, is one of his toughest, gnarliest movies, a fantasy adventure enraptured by the glorious beauty and equally glorious ugliness of nature.
I find this point of comparison for Kong: Skull Island to be fascinating, reflecting the wide range of influences Vogt-Roberts seems to be bringing to the film. Hell, any filmmaker making a King Kong movie who pauses to think about Princess Mononke is a filmmaker I'd like to follow. For his first big studio outing, Vogt-Roberts seems to be going all-in and making the kind of crazy, personal film that some filmmakers wait a lifetime to make. I can't wait to see if it all comes together when the film opens on March 10, 2017.